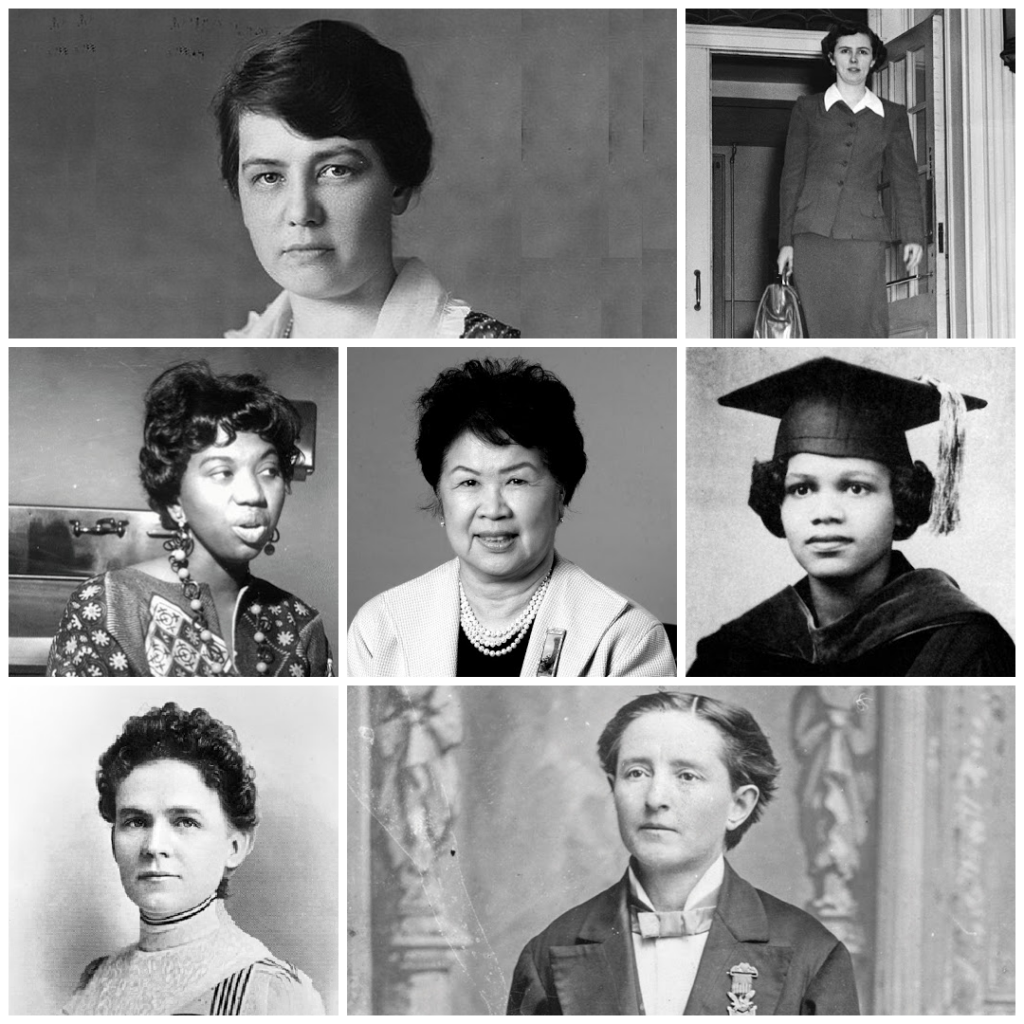 In 2020, we celebrated Vice President Kamala Harris (a former Howard University debater) becoming the first woman and first person of color to achieve the office of US Vice President in 2020. Other women who achieved famous firsts before her, like Janet Reno, Hillary Clinton, and Nancy Pelosi are also well-known for being former high school and college debaters. Beyond these recent examples, women have pursued excellence inside and outside the debate community for decades. We're taking this month, March, to recognize groundbreaking women who you may not know are former debaters!
---
Prize Winning Women 
Elinor Ostrom
An influential political scientist, she won the Nobel Prize for Economic Sciences in 2009 and became the first woman to ever win the award.
Debate Connection: Back in high school, she went from a shy girl to commencement speaker: Elinor Ostrom, nicknamed "Lin" in high school, "joined the debate team in hopes of overcoming a childhood stutter and painful shyness. She not only mastered debate, but also became an outstanding member of the school swim team." Ostrom graduated from Beverly Hills High School in 1951. Her commencement speech asked: "Is There a World Tomorrow?" (Indiana University)
"High school debate is excellent training. There are two sides to every question, and you have to learn how to make a coherent argument for each, since they randomly assign you to a side." (IMF)
Dr. Mary Edwards Walker
She is the only woman ever to receive the Medal of Honor for her unpaid work as a Union surgeon during the Civil War. She was described as a "free thinker" all her life, an outspoken suffragist and doctor.
Debate Connection: She was suspended from Bowen Collegiate Institute for refusing to resign from the school's otherwise all-male debate team. (National Park Service)
---
Women In Law
We've previously spotlighted Justice Sonia Sotomayor for her groundbreaking achievements in law. Many other former debaters have gone on to great achievements in law, and these women are no exception:
Ella Knowles Haskell
Ella Haskell was the first female lawyer in Montana. Called "Portia of the People", she later became the first Montana woman to be elected to a political convention, the Populist Party.
Debate Connection: She graduated from high school at the age of 15 and entered Bates College, where she was the the first woman to compete on the debate team and first female editor of the school newspaper. (Montana Kids)
Judge Judith Smith Kaye
Judith Smith Kaye was the Chief Judge of the New York Court of Appeals, becoming the first woman to serve as chief judge and the longest-serving chief judge in New York history. She was one of only 10 women in her 1962 NYU graduating class. (NY Courts History)
Debate Connection: While at Monticello High School, she participated on the debate team, was editor of the student paper, and worked at her parents' apparel store.
I always loved to write; I loved debating; I loved writing. Dr. Stewart Irwin Gay taught Latin. He had a home room and he was the coach for the debate team. So if somehow you got into his orbit that was it. Forget everything else. Debating was my major activity." (Stanford Law School)
Charlotte Smallwood-Cook
Charlotte Smallwood Cook was the first woman elected as New York's District Attorney.
Charlotte's romance with her husband, Edward "Ned" Smallwood, began in her second year at Cornell University. After watching him compete in an evening debate, she joined the team. They later entered Cornell's law school and later Columbia together. She practiced with him at Smallwood & Smallwood. (Judicial Notice)
Terri Sewell
Before she broke ground for women in Congress in Alabama, Terri Sewell became the first black woman to make partner at Maynard, Cooper & Gale as a public finance lawyer. She attended Princeton University, where Michelle Obama served as her "older sister", and then Oxford University and Harvard Law School (where she met Barack Obama).
Debate Connection: At her high school in Selma,
She loved drama and wanted to be a Broadway star. Her mother nudged her to become a lawyer. In high school, she won so many debate tournaments that it was written up in the Montgomery newspaper. A Princeton alum saw it and contacted Sewell's high school, urging her to apply. (Washington Post)
Nadine Strossen
Nadine Strossen became the first woman president of the American Civil Liberties Union (ACLU) in 1991.  She decided to pursue law while attending Radcliffe College, eventually graduating from Harvard Law.
Debate Connection: She was an outstanding member of her high school debate team in Hopkins, MN.
"I didn't know any female lawyers," she remembers. "I didn't think it was even possible. I remember saying to the guys on the debate team" ‑Strossen was its only female‑ 'Gee, the law would be such a wonderful career. You should go off to Harvard and become lawyers." (Mary Ellen Mark, Vogue Magazine)
---
Women In Politics
We have previously spotlighted Ada Deer, Patsy Takemoto Mink, Yvanna Cancela, Shirley Chisholm, and Barbara Jordan's famous firsts in other blog articles. Here are just a few other women who broke ground in politics:
Dr. Jewel Prestage
Jewel Prestage is called the "Mother of Black Political Science" and was the first African-American woman to complete a doctorate in political science in the United States.
Debate Connection: Prestage reflected on how her teachers and debate coaches supported her development as a scholar:
"At Peabody School… I found a dynamic principal who served in that capacity for more than forty years. Excellent, supportive, involved teachers who did not hesitate to advise you in all kinds of ways. In that particular context, several teachers stand out as, uh, having detected in me,they said, some talent and who were determined to see to it that that talent developed to the maximum. Especially, uh, significant was an English teacher and drama coach, debate coach, Mrs. Mariah Emanuel, and I think without a doubt, she was the single most important intellectual influence in my life at the pre-collegiate level…

…I was a member of the Southern University Debate Team and Dr. Twiley Barker was one of the advisors for that debate team and we traveled throughout Louisiana and Texas engaging in intercollegiate debate competition. It was a very, very full, uh, undergraduate experience for me." (Louie B. Nunn Center for Oral History)
Martha Wong
Martha Jee Wong was the first Asian American ever elected to Houston City Council in 1993. Before that, she paved the way as the district's first Asian-American principal in 1978 and first Asian American woman elected to the Texas House of Representatives in 2002.
Debate Connection:
She was an enthusiastic student—elected to student council, on the yearbook staff, and a ferocious member of the debate team—and after Reagan High School (now Heights High School) it was a given that she would attend the University of Texas in Austin. (Houstonia Magazine)
Ellen Young
Ellen Young became the first Asian-American woman ever elected to the New York State Legislature and first on the East Coast. Before this, she was named the first female Asian Auxiliary Police Officer in Queens.
Debate Connection:
Young said she was an avid reader as a girl and a rather lonely one who blossomed by college when she participated in the debate team where she almost flopped but had the courage to finish her talk on the subject, "the pen is mightier than the sword." Nevertheless, she added, "I'm still shy." (BMCC-CUNY)
---
Women In STEM
Dr. Nancy W. Dickey
She was the first female president of the American Medical Association and helped write the Patient Bill of Rights. She is now the executive director of the A&M Rural & CommunitY Health Institute.
Debate Connection: She was first inspired to pursue higher education during a high school debate tournament hosted on SFA's campus.
"It happened to snow that weekend, and that very lovely campus became even more spectacular," Dickey said. "My partner and I won the tournament at SFA, and a partial scholarship to SFA was part of the prize." (SFASU)
Dr. Edith Irby Jones
Dr. Edith Irby Jones is a medical pioneer. She broke ground with an impressive list of firsts: First woman elected president of the National Medical Association, first African-American student at the University of Arkansas School of Medicine, and only female founding member of the Association of Black Cardiologists, and a charter member of 1997 Nobel Peace Prize winner Physicians for Human Rights.
Debate Connection: At Knoxville College, she was a member of student government, the debate team, and Sigma Theta sorority.
Elmina and Alda Wilson
These sisters broke ground in the field of civil engineering. Elmina was the first woman to receive a 4-year civil engineering degree from ISU in 1892. She was also the first to earn a master's in the field and the first to become a full-time college professor in civil engineering. The sisters were the first American women to pursue civil-engineering full time as a career. (ASCE Library)
Debate Connection: Elmina led the Women's Suffrage Club and was a charter member of the Phileleutheroi Literary Society, the collegiate debate team at Iowa State University.
---
Want more trivia like this? Check out our social media pages and give us a like and follow!