2023 Mayors Challenge: The Great Prosperity Debate
Support Minnesota Students At the 2023 MNUDL Mayors Challenge:
The Great Prosperity Debate
The Minnesota Urban Debate League is proud to present its 11th annual fundraiser – the 2023 Mayors Challenge: The Great Prosperity Debate, returning to the beautiful American Swedish Institute as our venue: 2600 Park Ave, Minneapolis, MN 55407.
Since 2012, our Mayors Challenge event has brought together education advocates from across the Twin Cities to watch our empowering, informative showcase debate. 
In this year's debate, four debaters, who represent our partner schools across the Twin Cities, will split into two teams and debate issues related to economic inequality, the national policy debate topic. We have invited experts in economic policy to serve on our VIP panel. Join our event to enjoy a compelling debate, network with other individuals who care deeply about local education, and support our students.
Schedule: 
5:00 – 6:00 – Cocktail Reception with MNUDL Students, Governor Walz, First Lady Gwen Walz, Mayor Carter and Mayor Frey. 
6:05 – Welcome Remarks from Gov. Tim Walz
6:15 – Student Debate & Conversation with the Mayors
7:00 – VIP Panel 
7:30 – Champion of Change
7:45 – Debate Decision by Audience & Conclusion
2023 Champion of Change
In 2018, we launched our Champions of Change awards to honor the changemakers in our community who model courageous leadership and inspire our students. Stay tuned for the announcement of our 2023 Champion of Change! 
2018: Representative Ilhan Omar 

2019: Lieutenant Governor Peggy Flanagan

2020: Justice David Lillehaug

2021: James C. Burroughs II (Children's Minnesota) 

2022: National Security Advisor Jake Sullivan

2023: TBA
Corporate Sponsorship Options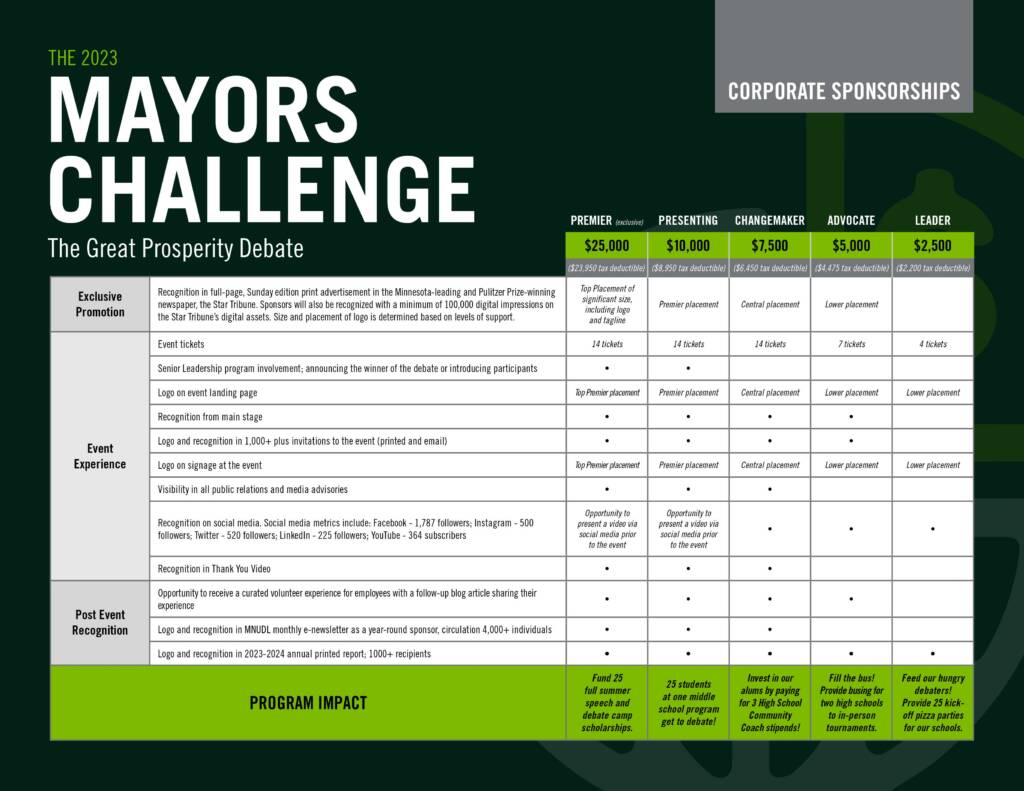 Individual Sponsorship Options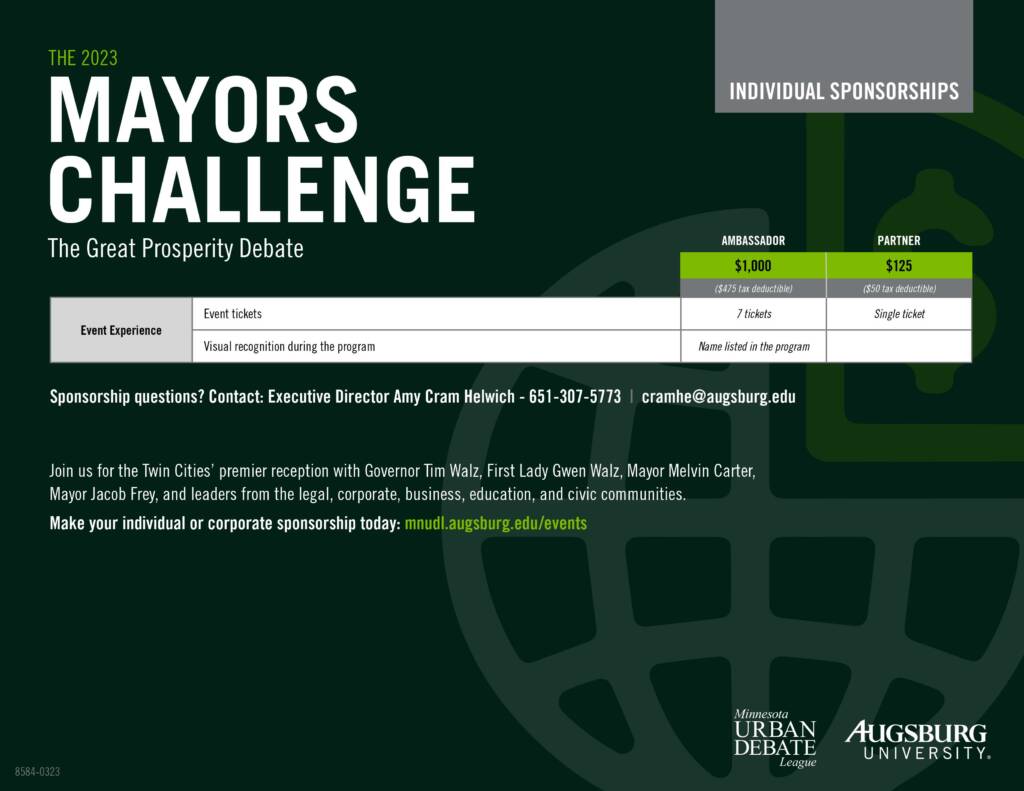 Mission Driven
Join us in-person in September to make your investment in our youth leaders, advocates, and future policy makers. The Minnesota Urban Debate League supports students to become engaged learners, critical thinkers, active global citizens, and effective advocates for themselves and their communities. We serve more than 1,200 students in 9 districts across Minneapolis, St. Paul, and select suburbs. 
Programming includes:
High School MSHSL Debate

Middle School Policy Debate

Spanish Debate League

East African Debate

Financial Literacy Leadership Debates

Summer Speech & Debate Camp
Your sponsorship ensures students across the metro area will have access to this leadership pipeline program. 
Why Debate? 
In our program, debaters learn to deeply research and advocate for multiple angles of crucial contemporary issues. Students gain skills in debate that set them up for success in the classroom and in life. Research shows that debaters vs. non-debaters have higher MCA reading scores, GPAs, ACT scores, graduation rates, and acceptance to college. Your sponsorship dollars ensure students in the Twin Cities Metro can access this transformative activity. 
Our vision is that the benefits of debate should be available to every Minnesota student. Help us amplify student voice and achievement. Sponsor a table today. 
Share This Event!