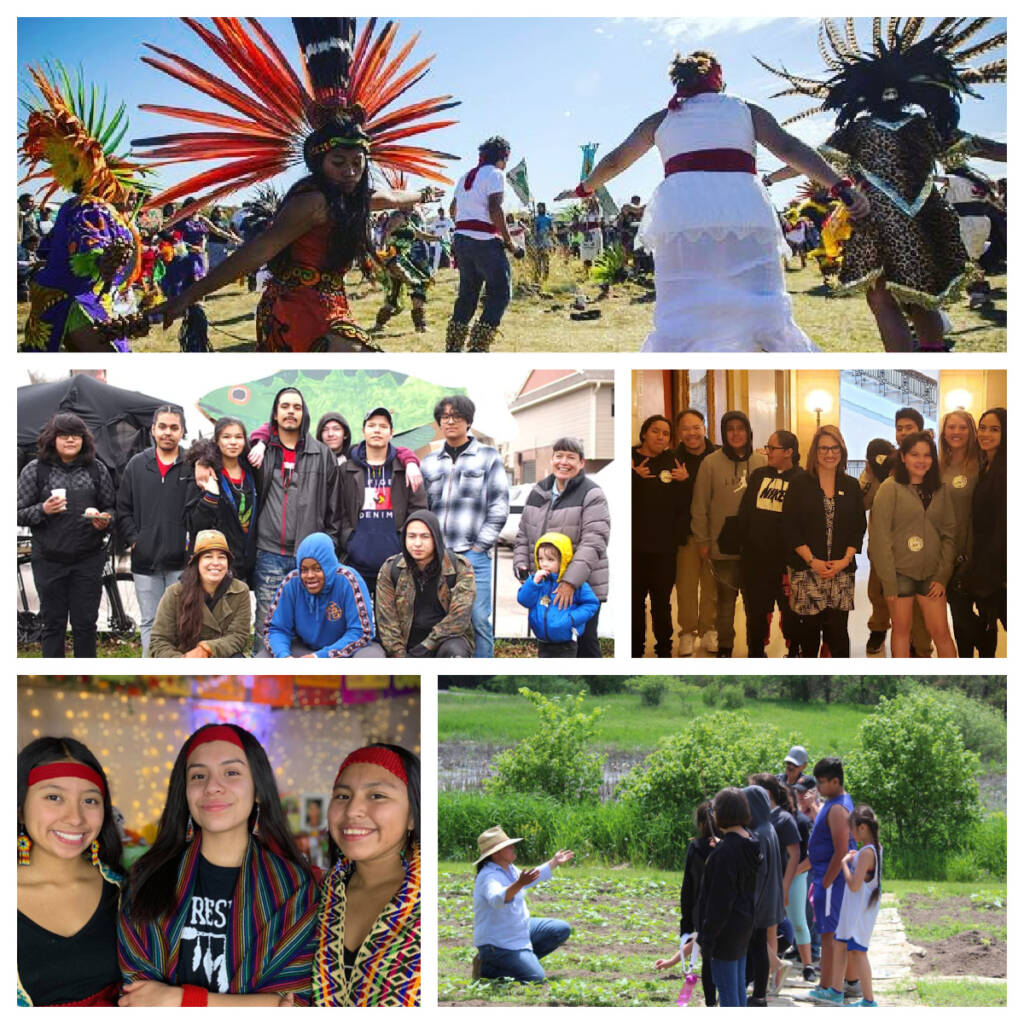 Today marks Indigenous People's Day in the United States. President Biden has proclaimed today as a new holiday to "celebrate the invaluable contributions and resilience of Indigenous peoples, recognize their inherent sovereignty, and commit to honoring the Federal Government's trust and treaty obligations to Tribal Nations."
American Indians, Alaska Natives, and Native Hawaiians have made incredible contributions to our world, while facing incalculable adversity through systemic oppression. We have named some of the community's resilient, powerful leaders in our article about debate alumnae.
Today, we want to uplift and celebrate organizations working with the next generation of Indigenous changemakers. Please engage with them- show your support to them through donations, volunteering, and uplifting their messages on social media.
There are many folks doing great work in Minnesota. Let us know who we should add to the list at mnudl@augsburg.edu!
---
Dream of Wild Health
Dream of Wild Health (DWH) is an intertribal, independent 501(c)3 nonprofit that serves the Minneapolis-Saint Paul Native American community. Dream of Wild Health is one of the longest continually operating Native American organizations in the Twin Cities. DWH owns a 30-acre farm in Hugo, MN, providing educational programs that reconnect the urban Native American community with traditional Native plants and their culinary, medicinal and spiritual use. DWH maintains an urban presence in Minneapolis with offices in the heart of the Phillips neighborhood in the Native American Cultural Corridor on Franklin Avenue.
Each year Dream of Wild Health teaches Native American youth about gardening, cooking, and culture while developing job and leadership skills throughout youth programs. Dream of Wild Health runs a CSA called the Indigenous Food Share (IFS) and sells produce at three farmers markets in Minneapolis and St. Paul. We also grow Indigenous foods including corn, beans and squash from a collection of rare seeds that were given to us by Cora Baker, a Potawatomi elder. Dream of Wild Health partners with dozens of urban and tribal organizations on programs that work to restore the mental, physical, and emotional health of the Native American community.
DWH is a founding member of the Indigenous Seedkeepers Alliance, a network of Native people and organizations dedicated to returning indigenous foods to our communities. Together with our partners, we are organizing a comprehensive Indigenous Food Network that incorporates access to affordable healthy and traditional foods with support for regional Native food producers, creative and accessible channels of distribution, and opportunities for job training and employment.
Youth programs include:
Cora's Kids: Cora's Kids is a four day program for Native kids ages 8-12 out at the Dream of Wild Health farm in Hugo, MN. We will be learning about growing and eating healthy and tasty food, culture, and language along with traditional crafts and games.
Garden Warriors: Our three-week sessions covering gardening, nutrition, physical activity, and Native culture and language for teens ages 13-18. Youth have the opportunity to work in the kitchen cooking healthy and indigenous foods as well as the opportunity to work at our Farmer's Market. Participants are paid a stipend for their work experience.
Youth Leaders: Garden Warriors who demonstrate maturity and commitment to succeeding in school are invited to join our year-round Youth Leaders group. It is an opportunity for Native youth to take leadership in the community around nutrition, health and food justice issues. We work together to become advocates and examples for our community and reconnect to a traditional relationship with our food.
Support Dream of Wild Health – Donate 
Connect with Dream of Wild Health
---
Indigenous Roots
The Indigenous Roots Cultural Arts Center opened its doors to the public on Thursday, May 11, 2017 with an intimate opening Gathering and Blessings of Community Elders.
Indigenous Roots Cultural Center is a collective of artists and organizations dedicated to building, supporting and cultivating opportunities for Indigenous peoples and communities of color through cultural arts and activism. This community based multidisciplinary, multigenerational, multicultural center for Native-Indigenous/POC communities in Saint Paul, uniquely presents the many faces and creative expressions blossoming in the cultural scene of Dayton's Bluff on the East Side.
Indigenous Roots' work includes Community driven programs that promote and practice holistic well being through indigenous arts, traditions, and culture.
ZIPAKTLI: Programming focused on building youth leadership and development skills through academic and community opportunities and partnerships.
MALINALLI: Workshops focused on wellness by exploring traditional ancestral healing from womb wellness to medicinal plant knowledge.
KOATL: Workshops focused on decolonized learning, ancestral knowledge, Tonalpohualli, Huehuetlahtolli, 20 Ancestral Advices, philosophy, and history.
KIAHUITL: Community gatherings focused on promoting, informing, and catalyzing social change through traditional arts, artist residencies, and community events.
Support Indigenous Roots – Donate
Connect with Indigenous Roots Online: Facebook | Instagram
---
International Indigenous Youth Council – Twin Cities Chapter
The IIYC seeks to organize youth through education, spiritual practices and civic engagement to create positive change in our communities. Through action and ceremony, the IIYC commits to building a sustainable future for the next seven generations.
Learn More & Support the Organization
Connect with With Indigenous Youth Council Online
---
MIGIZI Communications
We believe all youth have a positive core, brilliance, boundless potential and sacred gifts to share.
MIGIZI acts as a circle of support that nurtures the development of Native American youth in order to unleash their creativity and dreams – to benefit themselves, their families and community. MIGIZI puts youth first, supporting youth-driven activities that fully engage youth in a self-directed path to holistic wellness and to success in education and employment.
Through the mutual support provided within the indigenous circle, individuals discover their talents and explore their dreams. The positive results fuel not only youth success but also collective impact, as youth give back to the circle and unleash new energy and ideas. In MIGIZI's circle, adults and youth work side-by-side in culturally grounded, participatory leadership and operations. Everyone is a leader, a learner, a coach and a relative.
At MIGIZI and with partner organizations, these relationships are nurtured by core values such as respect, humility, accountability, helping and getting out of one's comfort zone. Guided by constant practice of core values, the circle becomes a positive climate for youth and adults to thrive individually as well as collectively.
Programs include:
Green Jobs Pathway (GJP) provides communities with sustainable and eco-friendly solutions. We equip young people with the tools (literally!) and knowledge to properly work within the green sector. Here, they are exposed to numerous professional career experiences with alternative means of energy and construction work and are given a head start to their career!
First Person Productions (FPP) strives to educate youth on new and innovative media practices that is used to build local communities. FPP carries on the passion of journalism from the humble beginning of MIGIZI and continues to serve as a voice for those who have no voice within our community.
Education, Leadership & Culture (ELC) has programs such as Sacred Visions, Native Academy, and our Academic Support program that focuses on integrating cultural practices with academic studies that allows for a relatable and engaging time of learning. Most of our school-focused programs are here!
Learn More About How to Get Involved
---
Minneapolis American Indian Center
The Minneapolis American Indian Center provides several youth programs, including:
The Ginew/Golden Eagle Program: a year-round after-school program at MAIC that provides culturally-specific curriculum designed to enhance the resiliency of American Indian youth aged 5-18. Our participants are eligible for transportation to and from the program if they live or attend school within the program's transportation boundaries (i.e. South Minneapolis). Furthermore, participants' friends who may not identify as American Indian are welcome to participate in our culturally-focused program.
Culture Language and Arts Network, a project to reduce substance abuse among at-risk urban American Indian youth by offering experiences that both challenge the youth and helps them reconnect to their culture. In particular, youth whose parents/guardians/family members have a history of substance abuse are at-risk for developing substance abuse problems. We encourage youth and their families to participate in building resilience within the family system.
American Indian youth ages 8 to 18 (who have not had a Rule 25 assessment) and their families participate in cultural activities, allowing them to learn and practice our cultural traditions. These activities include local cultural events; family fun nights; powwows; drum groups; language tables; and alcohol, tobacco and other drugs (ATOD) education. In these activities, an elder or knowledgeable adult offers their skills and shares their knowledge with youth and their families. Additionally, eligible families have opportunities to participate in field trips to culturally-relevant or sacred sites.
Learn More About Youth Programs
---