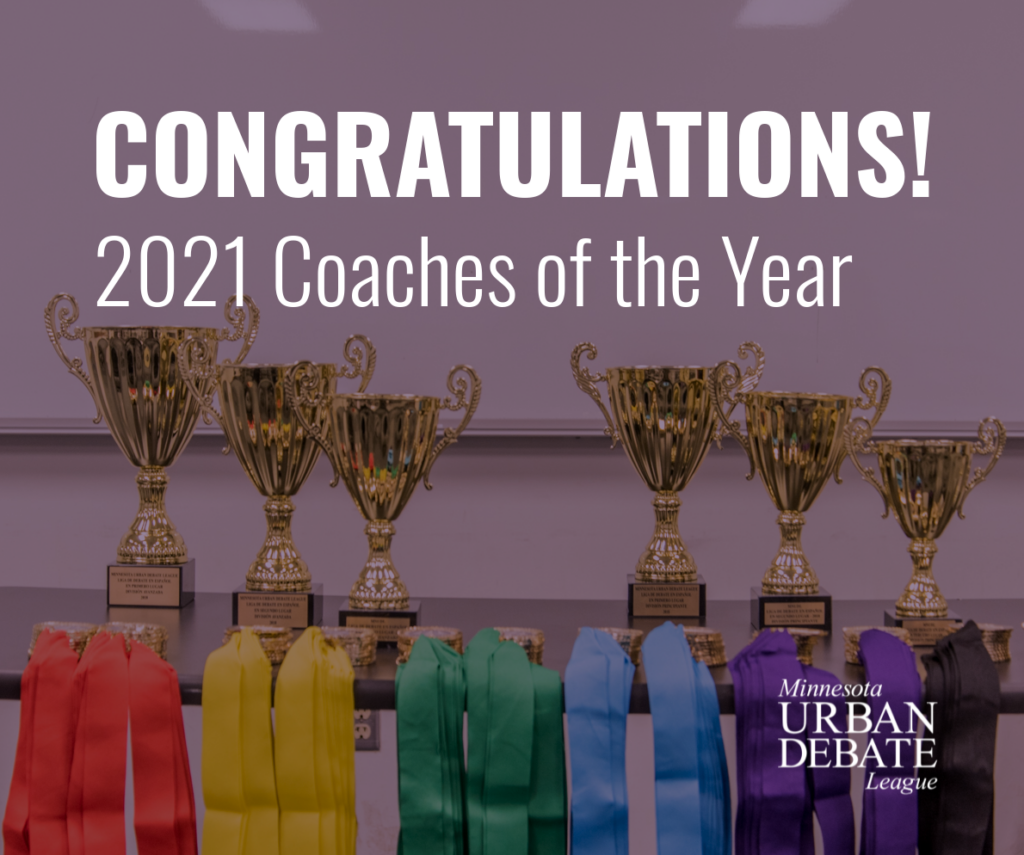 Each year, our high school national topic debate community nominates impactful Teacher Coaches and Community Coaches, and then votes on which should receive the honor of Coach of the Year. It has been a particularly challenging year, and we are so excited to honor these coaches for their accomplishments!
---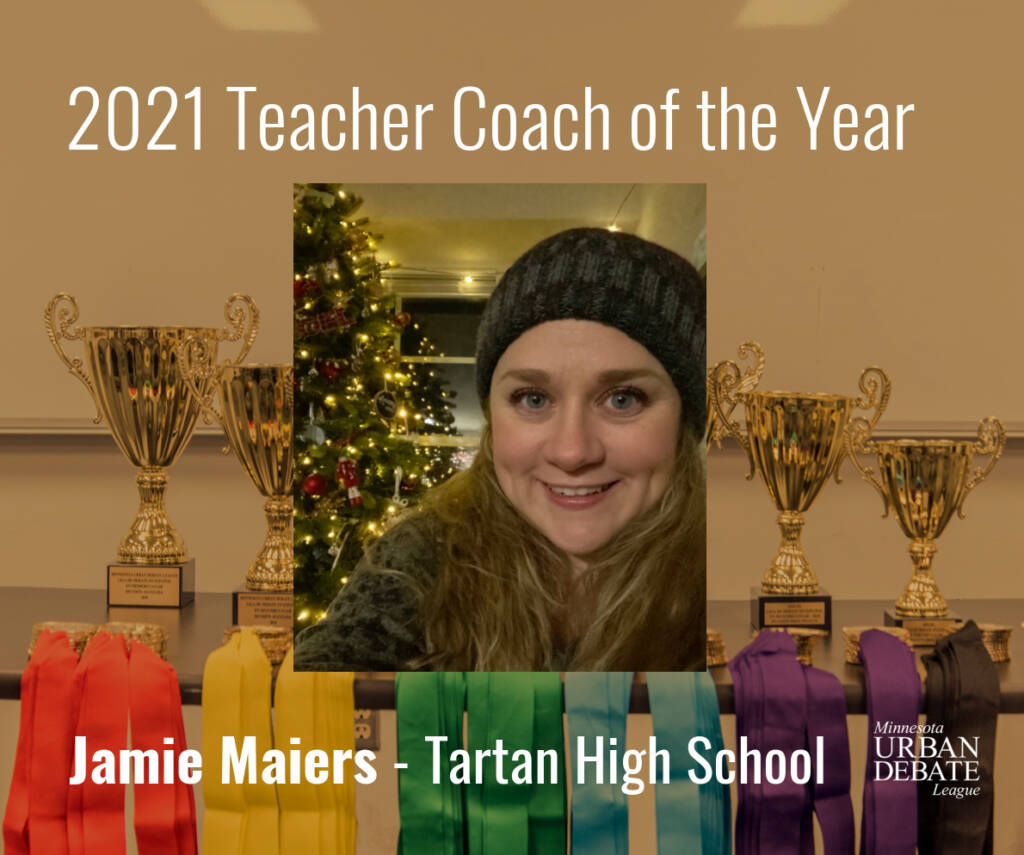 Congratulations to our Teacher Coach of the Year, Jamie Maiers!
Tartan High School became our newest community partner this year. Jamie has recruited a large and competitive team of rookies. They've made an incredible start to their team, closing out the Citywide Championship as well as the MDTA JV/Novice State Tournament!
She says:
Being Rookies can be a little overwhelming, but I have been so proud of my kids for their dedication and perseverance this season. Debate has allowed them to practice real-life skills like forming arguments, using evidence to support their ideas, and collaborating with different people. The camaraderie they developed with their team and their community has given them the confidence to challenge themselves and be inspirational to others. Coaching these young people has given me purpose and this season has been a privilege to see them grow. Working with my Community Coach Clare has been a blessing and I am grateful to the staff at Augsburg and Minnesota Urban Debate League, especially Jake and Jenna, for their diligence and enthusiasm.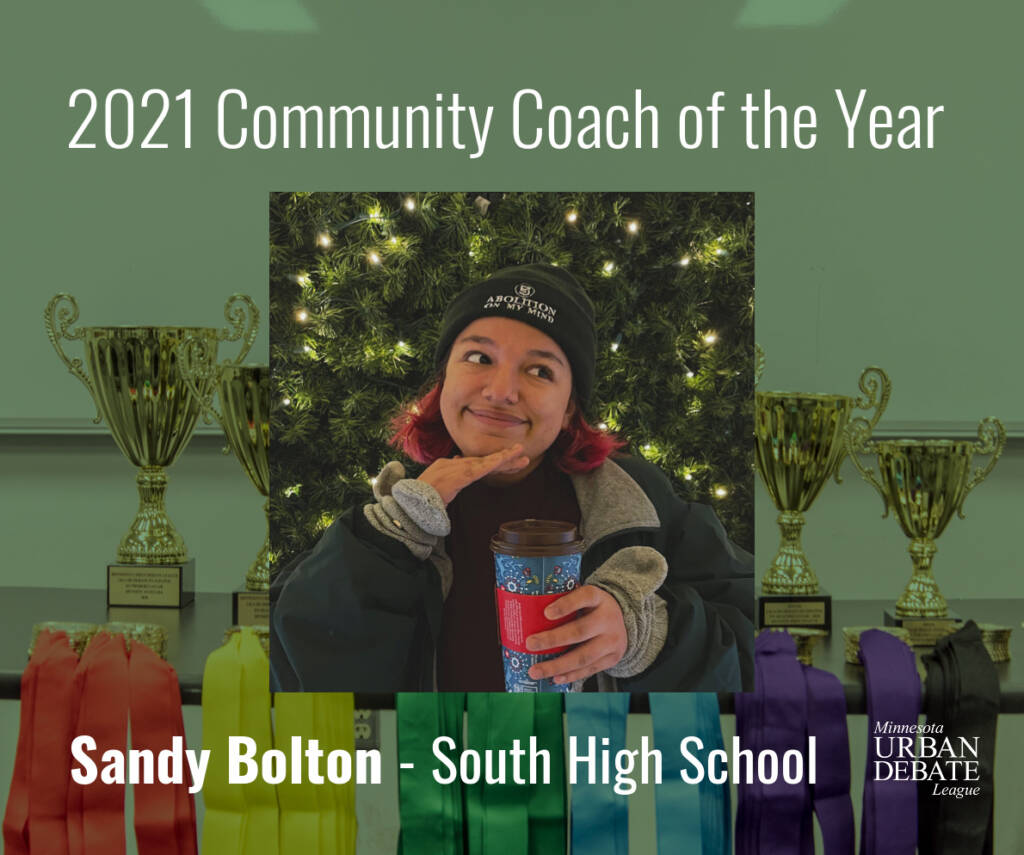 Congratulations to our Community Coach of the Year, Sandy Bolton!
Sandy has been with us for nearly a decade: as a middle school debater and national topic and Spanish Debate League high school debater at Roosevelt High School, they succeed competitively and contributed to a positive team culture. Sandy was a middle school debate coach while debating, and is now a high school debate coach as they are attending college! Sandy's contributions to our community are huge, and we are so excited to honor them with this award.
Reflecting on the season, they tell us:
Most of my favorite memories from this year are mostly about how much the novice team made me laugh. My favorite day was Saturday of the UMN invitational. It was was the first real in-person tournament any of us had gone to for a while, and the whole novice team was getting to experience it for the first time. At one point, they found a rentable electric scooter. Everybody took turns scootering around and laughing together. It felt like such a cool team moment, and also a reminder of how lovely in-person debate can be together.
---
Help connect more students to fantastic mentors like Jamie and Sandy. Your gifts help fund coach stipends. Give monthly or make a one-time gift today.