This Former Debater Is Working Toward Depolarization
Alum Spotlight: Erick Castellanos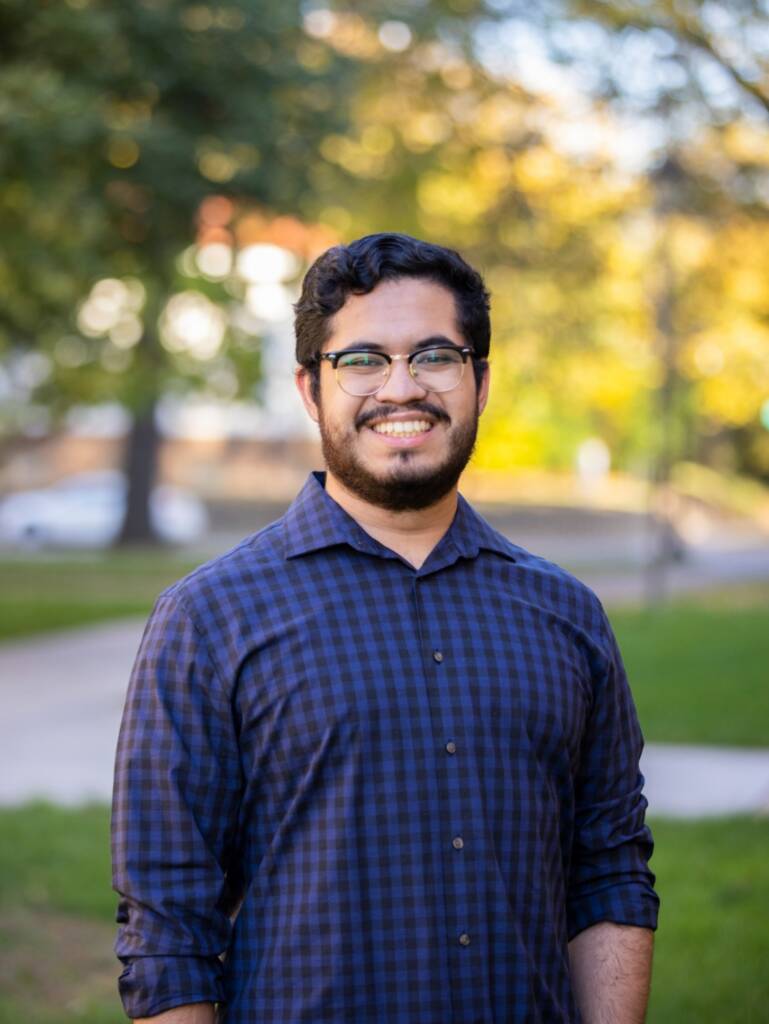 Erick Castellanos was always interested in learning more about the world and being informed about social issues. His freshman year of high school, his AVID teacher mentioned the debate team and Castellanos decided to take the risk and join. Finding that debate helped fill his curiosity, he continued to debate at Roosevelt Senior High School.
Now, Castellanos travels around the Twin Cities as a Community Outreach Coordinator, providing resources and starting discussions about education equity. Here, we got to check in with him about his job and his memories from debate:
What made you want to continue to debate?
I think it's just me continually being interested in social studies and wanting to get to know more about what's going on in the world. And finding it as a channel to learn about those things, and also my skills of articulation and overall debating.
Do you have any funny or interesting memories from debate?
Maybe like my first debate and kind of being nervous and I was paired up with a friend. And I guess we were both nervous. Then right before the debate moderator came and we try to get to know the other team, just know their story. It's their second year and they're from Eagan. I'm just like,"Oh I know some people from Eagan." I became really friendly with all of them. And then, the second thing we did after, you do like the opening speeches and they just go all out on us and we're just unprepared. I just remember how flabbergasted we were…
What's something you are most proud of from your time in debate?
I would say being able to be part of a team. I'll say it's probably the first team that I've been in. And I think it was really something that helped me out in my freshman year of high school. I just liked being there and then having the group to fall back on, and also just getting to listen to their experiences while debating and how interesting it gets.
What skills did you learn from debate?
Definitely self organizing, thinking about what you say before you say it, and I guess overall in speeches and debates having a roadmap in your head and how to structure that roadmap. I've always had a bit of a stutter, but I think that it's all the better with that. Especially with all the practices that we did too. They had us put a pen in our mouths and try to read the text as fast as we could. It was really weird, but it somehow worked. It helped us go through those texts much faster.
What do you do in your current job?
As part of a fellowship called Move for America, whose mission is to depolarize America and we do that by going to different parts of Minnesota, like I'm set in the Minneapolis area, so that's convenient for me. But for my job in community outreach, I look out for events in the community where I feel I can have my organization's free educational resources sent to, and also lead the distribution of our resources to local businesses, organizations, and so on. I guess as part of that, I get to engage with a lot of people and just drive everywhere across the city.
How do you and your organization work on depolarizing the U.S.?
I know that education has been a very hot topic issue within Minneapolis, especially with thinking of solutions on how to solve the disparities that there are in the cities. I will have interacted with people who have different ideas, like public schools offer more solutions as like charter schools, so it's just like engaging with different folks in that realm.
How do you feel your time with debate has helped you in your current role?
I really feel like debate back then was really helping with my self confidence and being able to talk, especially about different issues and trying to be as knowledgeable about them as possible. I feel like otherwise I would have gone with the flow and lost track of everything. I think debate gave me a little bit of discipline in that area, but also just like the motivation to have these conversations and try to seek out solutions.
Do you have any advice for students interested in trying debate?
I would just say just give it a shot. I think it's really helped me and a lot of others that I know being able to articulate themselves and you can really learn a lot about it and get to know a lot of different people. I feel like there's a lot to gain and I feel like it's a really underrated extracurricular.
Help us support debate teams at schools like Erick's alma mater, Roosevelt High School. Make a donation today!