Building Cozy Community at UMBrooks 2023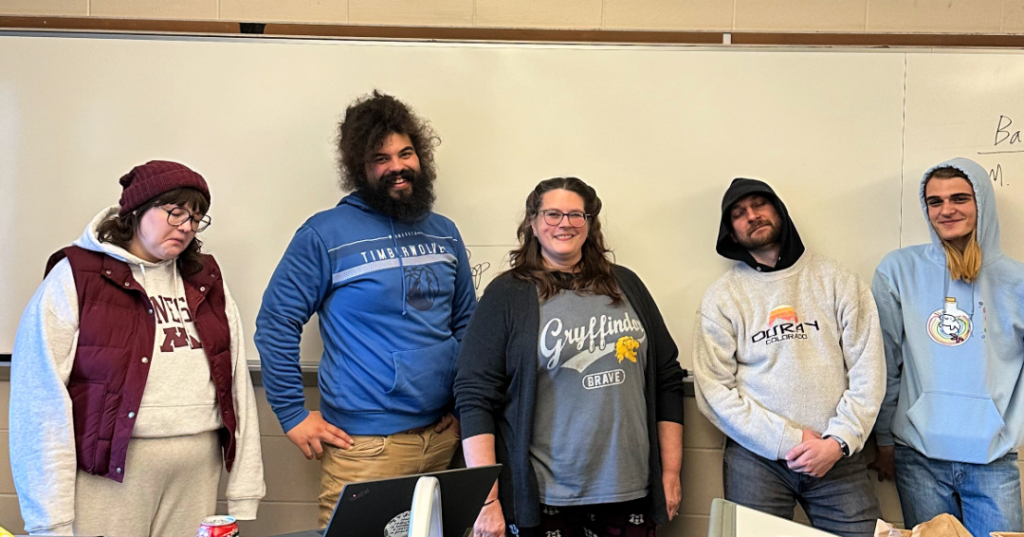 Every year, MNUDL holds UMBrooks over the Glenbrooks tournament weekend. We want to provide this space as an opportunity for community building and celebrating debate in Minnesota.
Thank you to the forensics teams from MSU-Mankato, UMN, and Macalester College for joining us and speaking to students about opportunities to keep competing in debate at college.
As part of the tournament tradition, we have a fun scavenger hunt and theme costume contest!
Special Community Awards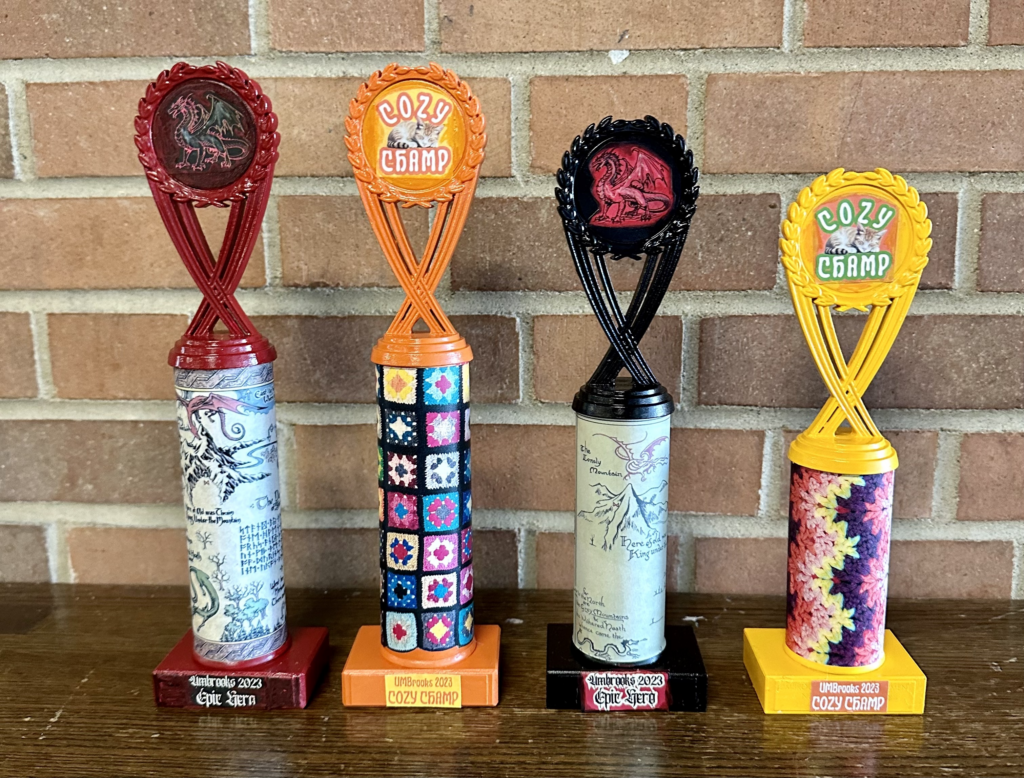 Students competed for a chance to win these fun bonus trophies, redecorated by our VISTA member Skye Spindler.
Trivia Contest Winner: 
In this epic quests, individuals competed in a series of challenges to earn the UMBrooks trivia trophy. In the Trivia Gauntlet, students had to find the right person, or Google search to answer debate lore. In the Timeless Faces category, students had to identify debate coaches from their old photos. In the Dialectic Discovery category, students had an opportunity to introduce themselves and learn about debate from people they wouldn't usually speak to like other coaches that aren't theirs. Finally, students competed in the most difficult challenge, the Persuasion Pilgrimage. In 2nd place, attempting to answer nearly all questions across all categories and getting 7 correct, was the crew from Tartan High School, Teka, Diaz, & Medved! Our final and ultimate epic hero, answering 9 questions correctly, and at least one correct in every category, from Wayzata HS was Haasini Mendu!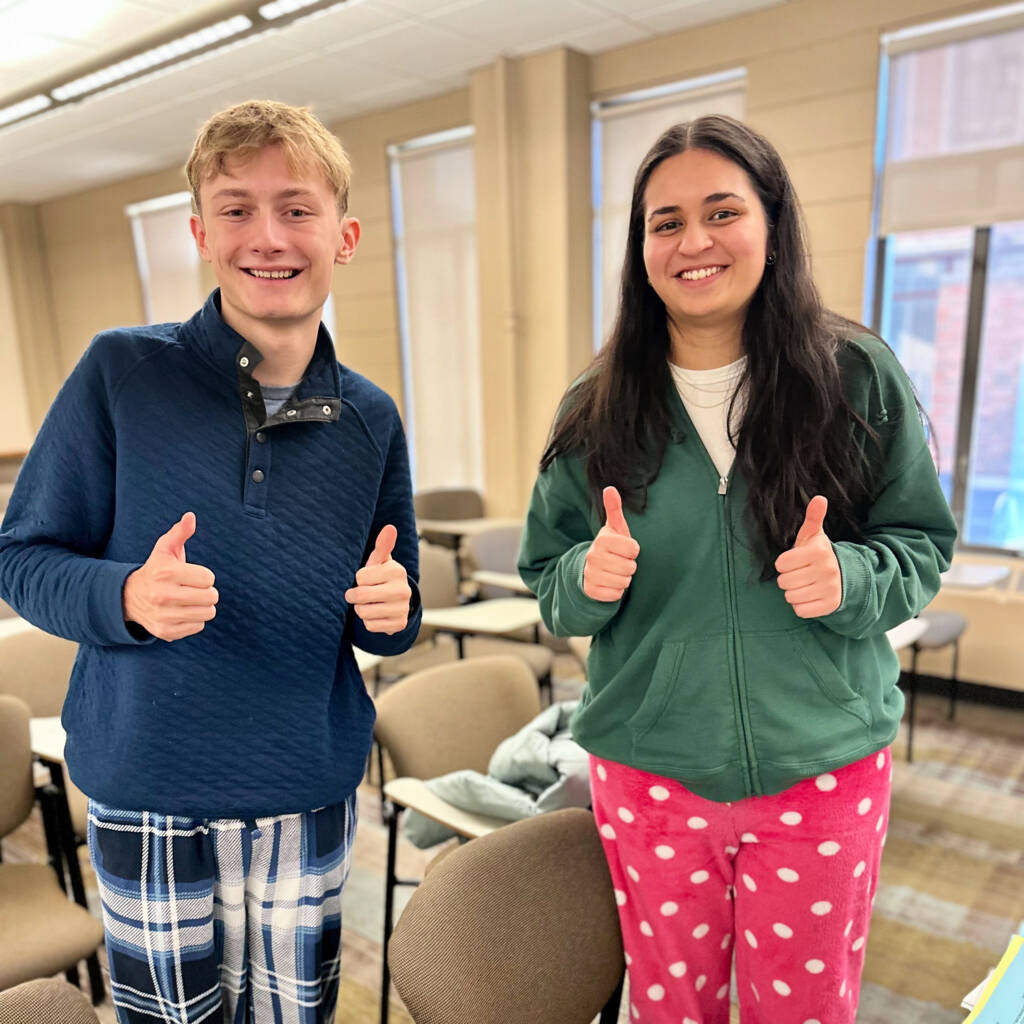 Our students dressed up in their coziest outfits for a chance to be crowned Cozy Champs! 
Here's a few other favorite cozy outfits:
TOURNAMENT HIGHLIGHTS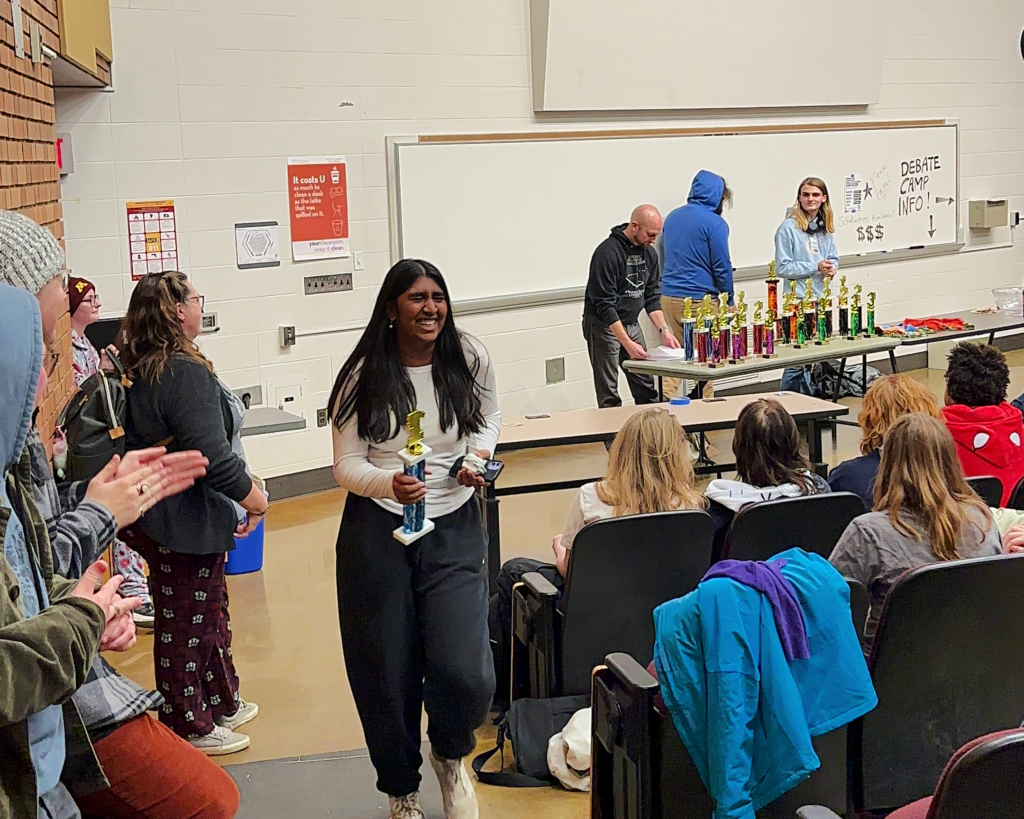 NOVICE A DIVISION 
Team Awards (Top Half) 
– 1st: Batica, Carlson & Meyer (Como Park) 
– 2nd: Craig & Cleghord (Prior Lake) 
– 3rd: Teka, Diaz, & Medved (Tartan HS) 
– 4th: Haji & Said (Prior Lake) 
Speaker Awards (Top 10) 
– 2nd: Nathan Medved (Tartan HS) 
– 4th: Samrawit Teka (Tartan HS) 
– 5th: Inga Craig (Prior Lake) 
– 7th: Austin Cleghord (Prior Lake) 
– 8th: Kamila Sabit (Tartan HS) 
– 9th: Cassondra Carlson (Como Park) 
– 10th: Gen Meyer (Como Park) 
NOVICE B DIVISION 
Team Awards (Top 15) 
– 4th: Guiney & Palma (Highland Park) 
– 7th: Hemann & Howes (Tartan HS)
– 9th: Sunbeeb & Moroso (Prior Lake) 
– 11th: Cogshall & Napper (Central HS) 
– 12th: August Peden (Roseville HS) 
– 13th: Eakin & Nelson (Central HS) 
– 15th: Carter & Nagel (Central HS) 
Speaker Awards (Top 25) 
– 2nd: Alex Hemann (Tartan HS) 
– 8th: Nalini Carter (Central HS) 
– 12th: Ruby Nagel (Central HS) 
– 15th: Benjamin Cahoy-Nannemann 
– 17th: Ryan Mai (Prior Lake) 
– 18th: Deion Burton (Edison HS) 
– 19th: Tillton Gawston (Edison HS) 
– 20th: Hannah Howes (Tartan HS) 
– 21st: Ryan Moroso (Prior Lake)
– 22nd: Himeeka Sunbeeb (Prior Lake) 
– 25th: James Cogshall (Central HS) 
NOVICE DIVISION C 
Team Awards:  
– 1st: Gobena & Kadir (WTMS) 
Speaker Awards: 
– 1st: Seenaa Gobena (WTMS) 
– 2nd: Iman Kadir (WTMS) 
JUNIOR VARSITY DIVISION 
Team Awards (Top Half)  
– 1st: Charlotte Washington (Central HS) 
– 4th: Matthias Stiehl (Roseville) 
– 5th: Adler Young (Roosevelt) 
– 6th: Good & Windau (WTMS) 
Speaker Awards (Top 10) 
– 1st: Charlotte Washington (Central HS) 
– 4th: Matthias Stiehl (Roseville) 
– 6th: Inah James (Tartan HS) 
– 7th: Adler Young (Roosevelt)
– 8th: Liam Windau (WTMS) 
VARSITY DIVISION 
Team Awards (Top 10) 
– 1st: Baxter-Kauf & Miller & Clark (Central HS) 
– 3rd: Johnson & Mohamed (Edison HS) 
– 4th: Snowbeck & St Dennis & Buchl (Highland Park) 
– 5th: Infante Garner & Siasoco (Edison HS) 
– 7th: Johnson & LaSalle (Central HS) 
– 9th: Berger & Mulroney (Central HS) 
– 10th: Abawari & Osborn (Highland Park) 
Speaker Awards (Top 20) 
– 1st: Kiernan Baxter-Kauf (Central HS) 
– 2nd: Lily St. Dennis (Highland Park) 
– 3rd: Eleanor Nervig (Roosevelt HS) 
– 4th: Audrey Snowbeck (Highland Park)