Wisdom Beyond Her Years: Lessons from Tamar Kaplan's Life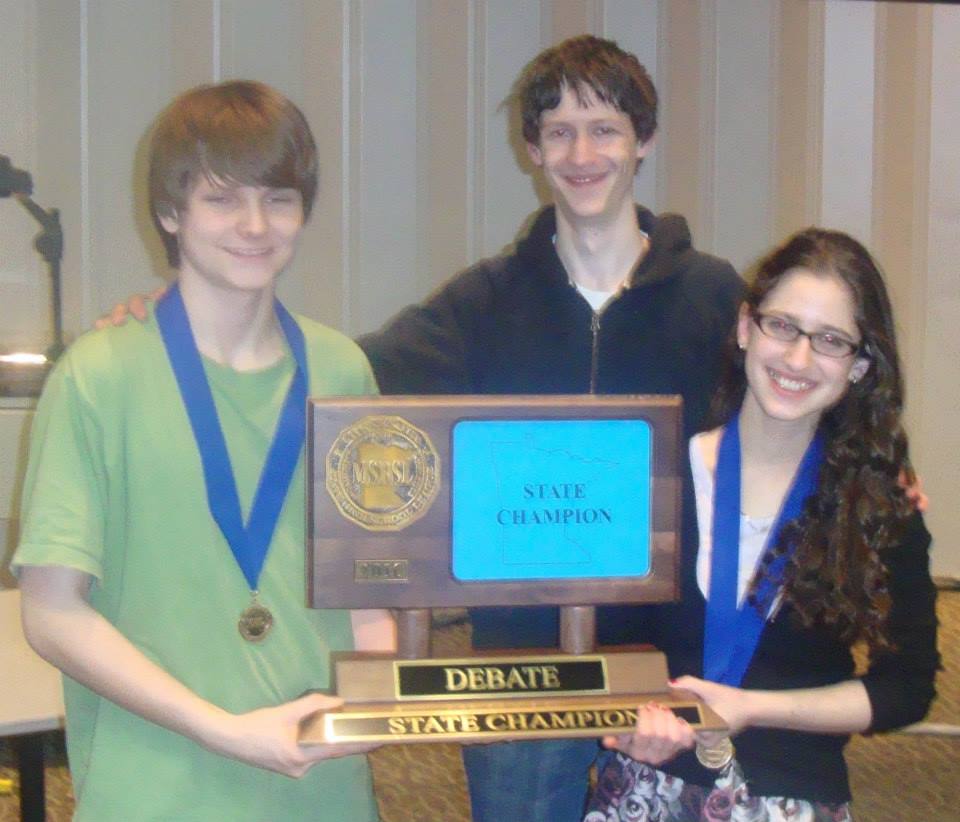 For years, the MN Urban Debate League has held the Tamar Kaplan Invitational on the second weekend of November. This tournament is named in memory of Tamar Kaplan, who was a former Highland Park Senior High School debater and integral to the debate community until her untimely death in January 2013. The Tamar Kaplan Student of the Year Award, run by the MDTA, also honors her legacy as a scholar, debater, and volunteer. Who was she? Why do we commemorate her? What can we learn from her? Read on to learn more about her life and the wisdom this amazing role model has to share with our students. 
Who was Tamar? Maya Hanna, Tamar's mother, tells us: 
"She was a bright person, in terms of her intellect and personality. A room was more fun when she was in it. She was chatty and always had stories to tell.She was easy to raise because she was independent and had built-in self confidence…

…She was fearless. As soon as she was ready to do something on her own, she didn't hesitate or ask permission. She just did it. She could run so fast and keep up with the bigger kids. She was never much into sports, though. Tamar was always reading. She could be doing a handstand against the wall and still have a book on the floor!"

Tamar attended Horace Mann Elementary, then Twin Cities Academy, and enrolled in Highland Park Senior High School. And that's when her debate story started. 
"Once she 'met' debate in high school, it was all-consuming. She just loved it: practices every night, tournaments on the weekend, summer camp. It filled more and more of her life, and it was demanding, but she loved it. I always remember her sandwiched between her computer and her bed. She spent so many hours prepping for tournaments," says Maya. 
Tamar was an excellent debater, but there was more to learn from her beyond debate skills. Her family and friends shared a few lessons from her life with our MN Urban Debate League communications team: 
Clean Less, Do More 
Andrew Hall is now a public defender and was Tamar's debate partner during the year 2010. Together, they got one bid for the TOC, earned 2nd at the National Urban Debate Championship in New York City, and won the state tournament. In his memory, Tamar is always moving: 
"She threw her entire self into debate the way she threw her whole self into everything she was passionate about. She was a whirlwind. At her funeral, someone said, 'Tamar never met a floor she didn't immediately throw her stuff all over.' And it's true! The lesson was: Clean Less, Do More. Whatever she was doing, she was really in it. It was easy to get caught up in her momentum…

To this day, I've never met someone who could think so quickly and incisively. She could plan a brilliant 5 minute speech in 20 seconds. She was such a force. Back in our time, we couldn't use the internet in rounds, and we always had 3 big tubs full of paper. It looked like a tornado went off after every single round because she'd never stop moving, grabbing files and writing notes on them."
Discover Your Passion and Pursue It 
Everyone who shares memories of Tamar described her focus and passion. 
"She was extremely focused. She always knew what she wanted and how to get there. Whatever she would have been doing now, it would have been amazing. That's just who she was. She didn't waste time. She went out and got it done. If Tamar was still with us, I think she would tell students: Find your passion, go for it, and don't let anything stand in your way," says Andrew Hall. 
One specific example still stands out for Maya. "Tamar didn't want to get conventional braces because it was so important for her to speak fast and clearly in debate. We had to compromise and get the removable braces instead! The orthodontist acknowledged he lost the debate," she remembers with a laugh. "She really was committed."
Celebrate Both Wins and Losses 
Jillian Jordan, now an assistant professor at Harvard Business School, was Tamar Kaplan's debate partner at Highland Park for multiple years. She reflected on Tamar's ability to bring a positive attitude to both wins and losses. 
"Tamar unapologetically loved herself and her friends, which made her particularly good at soaking up every ounce of possible joy from our debate successes while not letting our failures or mistakes bring us down. 

While I cherish the memories of our giddy celebrations at major milestones like our first TOC bid together, it is perhaps equally fun to reminisce about the amusing ways we made ourselves feel better after losing…

…I believe that Tamar's approach to celebrating the wins and finding humor and meaning in the setbacks is inspiring, and worth attempting to emulate, both in and far beyond the context of debate." 
Maya also observed Tamar's resilience in the face of both victory and defeat. She adds, 
"Tamar was successful, but she wasn't always winning. I remember all the times things didn't go her way in debate. She and her partner would still come back positive. I think she'd tell the current students, "Do what you love, but don't put too much stock into wins or losses. Debate will give you so much, but it has its ups and downs." 
Find the Human Side of Debate
"Tamar wasn't argumentative at home," says Maya. "She was wise beyond her years. If she made a counterargument or suggestion, it was reasonable. She could get to the heart of something and state it calmly. She was easygoing. After she died, so many people in debate said she was a fierce debater during the round but so easygoing and friendly in the halls once the debate was over." 
Andrew agrees: 
"For as strategic and ruthlessly analytical as Tamar was, she was also very compassionate. She had a good sense of who other people were. She had a way of navigating interactions with people because she was so smart and so incisive, but she didn't go around arguing with everyone. She knew what was important and what wasn't, and when the time was right to stand your ground. 

Even people on teams that were really excellent knew and respected her. Her reputation was very developed because she was both a good debater and a good person." 
Talon Powers, who was a coach and judge in the Minnesota debate community and coworker to Tamar at summer debate camp, shared his perspective:
"The thing that she did that set her apart is that she proved you don't have to be one thing to be successful in the debate community. You don't have to be a monomaniacal competitor who fights and scraps for every win. She was never that archetype. She beat people, but afterward, she would joke with them. Everyone was friends with her. You can care and have high expectations for yourself and your team. It didn't matter where she was, or who was helping her, or what else was going on. She proved you could be a kind person, doing it the right way, while still succeeding at the highest level."
Serve Your Community
During high school, Tamar served as a coach for the Highland Park Middle School debate team, which was in its very early stages during her time debating. She was also a coach at the MNUDL's summer debate camp.
Talon tells us,
"Coaching middle school debate is challenging. The students are so young that it impacts their ability to focus, even if they love it. She really helped them. She could sense what they needed and help them through it. When I got a chance to work with her at summer debate camp, I saw that she was fantastic instructor. She could help students feel like they were at home, they were improving, and could grow as debaters. If she had decided to become a coach after college, she would have been phenomenal – a superstar."
In college, she started her own service projects that involved supporting marginalized communities. 
"I'm involved with a living memorial to Tamar in Bolivia, where she spent her last semester. I continue to be involved with Mano a Mano and an ongoing monthly volunteer group. They're very much in line with the humanitarian interests she started to develop in college. The organization makes a huge difference in the lives of the communities in rural Bolivia," Maya adds.
Service is a central component to the Tamar Kaplan Student of the Year Award, which is administered by the MDTA each year. You can learn more about the scholarship, and nominate a student who is carrying on her legacy in academics, debate, and service, at the MDTA webpage. 
Tamar Kaplan touched the lives of many in the debate community. Was there an individual – maybe a coach, competitor, or teammate – who changed your life? Contact our communication staff at
mnudl@augsburg.edu
to pitch a story about what they taught you.