Judge Spotlight: Collins Chinonso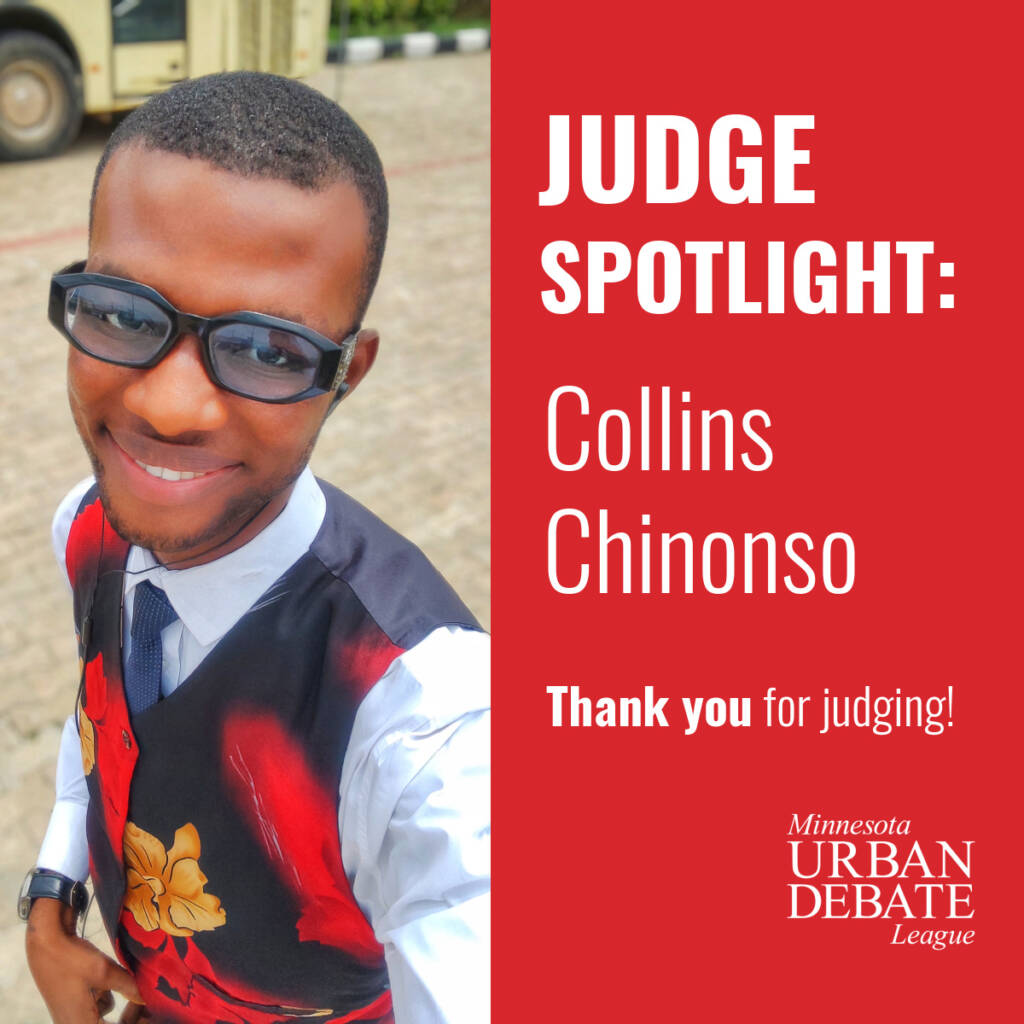 Our East African Debate 2022 season was an opportunity for debaters in Minneapolis and St. Paul, USA to connect with debaters overseas. We want to thank members of African debate community for joining us at our virtual tournaments. We also want to send a shout out to Roger Nix from Boston Debates, who gave suggestions for judge outreach!
Collins Chinonso was one of our international debate judges this season. Learn more about why he was motivated to judge with us and what he got from the experience.
Tell us more about your experience in debate.
My dedication and addiction to the sport (debate) has gotten me quite a number of outstanding achievements, with many top ten speakers awards, an incredible performances in debating a list featuring the likes of South African Debate Championship 2020, including Nigeria Debate Championship 2019 and Pan African Universities Debate Championship 2020, Wordwar IV Unilor in 2021, The Debate call out 2021 to mention but a few and as well as multiple winners medal and champions to my name .
I also have an outstanding performance and regard in adjudicating scene, including Finalist Adjudicator at Pan African University Debate Championship championship PAUDC 2021, Grand Finale Adjudicator at University College London UCL economics debate 2022, Quarters and Semi-finals adjudicator at All Nigerian University debating Championship ANUDC 2022, Quarter finals Panelist at  University of Engineering Technology Pakistan Debating Championship UET inter-varsity debate championship 2021, Grand finale adjudicator at the Philippine 44th Mindanao British parliamentary debate championship Philippine 2022, Junior Varsity and Varsity Grand final Adjudicator at Association of American Schools of Central America Debating championship AASCA  Guatemala 2022.
Aside the ones mentioned above, I have judged many high school tournaments across the globe.
What do you value most about debate?
The argumentation and persuasive nature of teams and everyone, the way teams engage in their arguments and show a sense of commitment and dedication in the sports alone gives me joy and happiness.
Another thing is debaters' willingness to argue learn and understand the act of debating especially when they don't do well as expected.
As a judge, what can debaters do to win the ballot from you?
For me, you must do the following: be clear and precise, know what you are defending and arguing, and respond to the arguments as they come.
Ensure you prove your points with concrete exams and explanations. Don't just make statements without any form of justification.
Be audible and effectively show the act of persuasion.