These LGBT Leaders Were Once Debaters
The ever-expanding network of speech and debate alumni is filled with people who went on to exciting accomplishments. The activity's LGBTQ+ alumni are no exception. From the stage to the law to the news, they put their skills in action and innovated along the way. Here are just a few LGBT+ former debaters:
---
IN ACTIVISM
Bayard Rustin, civil rights leader, was a member of Howard University's debate team.
Gabriel Acevero, union activist and organizer, was a member of his school's debate team before graduating at 16.
IN THE ARTS
Kalen Allen, Youtuber who will make his film debut in An American Pickle, was an award-winning member of his high school's speech and debate team.
IN HIS WORDS | "The best part about competing in speech and debate was being able to tell the stories I wanted to tell. But it was the freedom of expression and creativity in performing those pieces on a competitive level that strengthened my artistry while providing discipline."
Chris Colfer, star of Glee, was a member of the speech and debate team at Clovis East High School in CA.
Jesse Tyler Ferguson, Modern Family star, was a member of the speech and debate team at his Albuquerque high school.
Ross Matthews, American television personality, was president of the debate team his senior year of college.
Tony Kushner, Pulitzer Prize-winning playwright of Angels in America and more, was a policy debater in high school.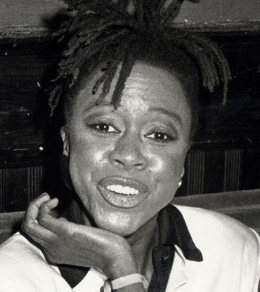 Danitra Vance was the first SNL cast member to be open about living with a learning disability, and the second to be an out lesbian. She competed on her high school debate team. (Chicago Tribune)
IN LAW
Kate Kendell, former Executive Director for the National Center for Lesbian Rights, was a college debater.
Grace Mead, commercial litigator and author, was a member of her high school debate team.
IN HER WORDS | "The debate team was my salvation… Fundamentally, the ability of small communities like the debate team to have faith in me sustained me in high school, college, and beyond, which is one reason I remain a huge supporter of debate." 
IN MEDIA & JOURNALISM
Randy Shilts, first openly gay journalist in a major US newspaper, competed on his high school debate team.
Carlos Maza, Youtube critic and former video producer for Vox, was involved in debate in high school.
IN HIS WORDS: "Debate saved my life. It was the most meaningful thing that's ever happened to me. Joining debate gave me the language to speak for myself, the confidence to speak for myself, the feeling that I could do something intellectually that made me important and valuable. It gave me the confidence to come out early." (Columbia Journalism Review)
Nate Silver, the founder and editor in chief of FiveThirtyEight, was a debate team member for four years of high school.
"Hard work is a huge part of the equation. It's often not sufficient to bring about success, but it's very often necessary if you want to be really good at something. My team won the state title in my junior year, and we were first runners-up in my senior year—had one of the best records in the history of the state of Michigan. I probably dedicated 60 hours a week to debate during debate season." (OUT Magazine, 2012)
IN POLITICS
Texas Congresswoman Barbara Jordan, an exceptionally talented debater, was an LGBT rights activist in life, and came out posthumously.
Jason Kander, former Secretary of State of Missouri, is also an attorney and founder of Let America Vote. He graduated from Bishop Miege High School in 1999, where he had been a member of the debate team.
Ritchie Torres, New York City Councilmember, is running for the US House of Representatives in 2020. The first person he came out to was his debate coach. (The Advocate)
Did we miss any other LGBT+ leaders who are in the forensics family? Let us know at mnudl@augsburg.edu and we'll add them — and don't forget to check out the NSDA's special poster series for LGBT Pride Month!