Celebrating National Coaches Day 2020
It's a challenging time to be a coach. With the all new virtual debate format, plus the many demands of being a classroom teacher right now, this is a truly tough year. Our coaches are facing it with optimism and commitment. There are over 30 coaches on our roster for the national topic season alone, and even more for our middle school, Spanish Debate, East African, and Financial Literacy programs. On National Coaches Day, we want to honor them and their efforts to make the 2020 debate season work. Here are 12 coaches making a difference for students, what they've learned from coaching, what motivates them, and more.
High School National Topic Policy Debate
Bryce Rao – National Topic Policy Debate coach at Johnson High School
I enjoy coaching debate because it expands students' worldviews by teaching them about important foreign policy issues that are often overlooked to focus on domestic concerns.
Caroline Stammers – National Topic Policy Debate coach at Patrick Henry High School
I am motivated to coach debate because now, more than ever, our students need to take the lead in critical thinking and effective speaking. Debate is where students can experience equity of voice. My advice to debaters is have fun and find your voice because UDL is a community that supports you.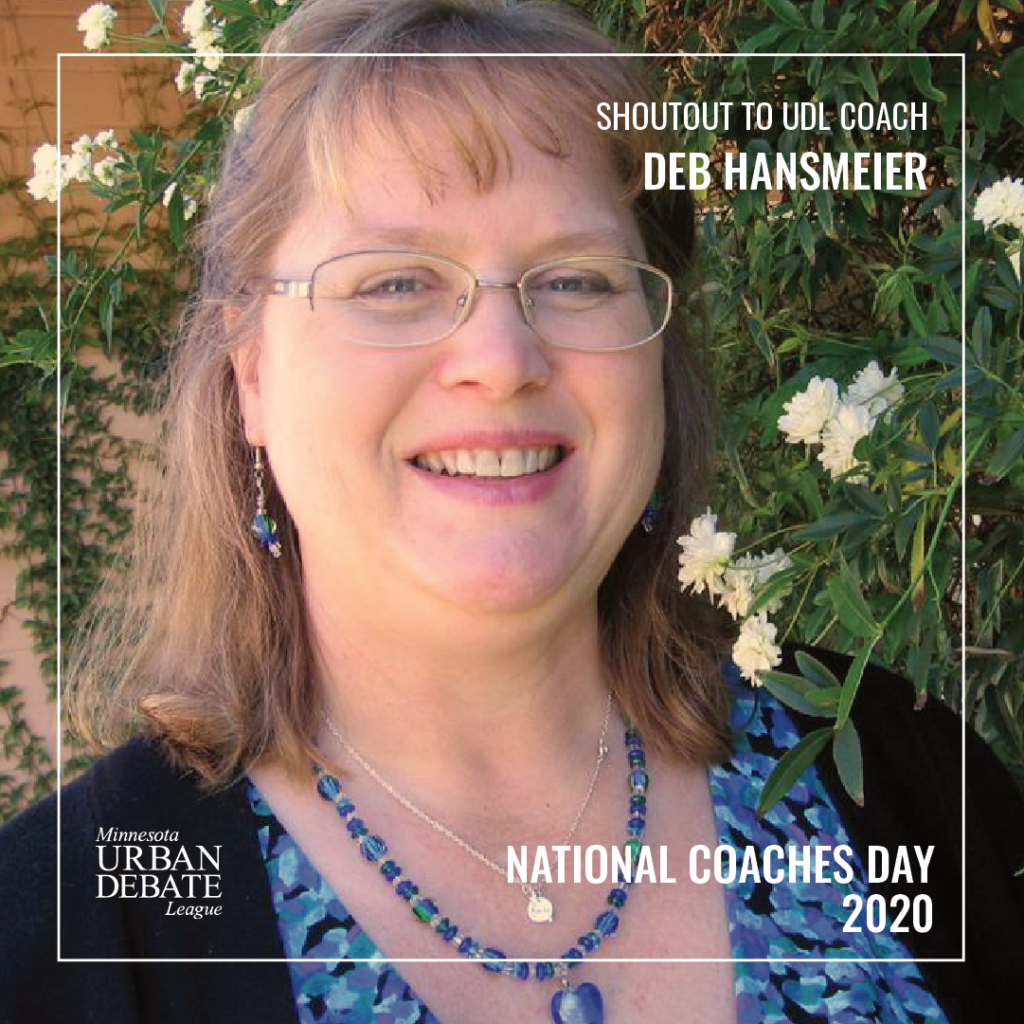 Deb Hansmeier coaches National Topic Policy Debate and Financial Literacy Leadership Debate at Como Park Senior High School.
Deb Hansmeier – National Topic Policy Debate coach Como Park Senior High School
I am the teacher coach at Como Park Senior High School, I have been doing this for the last 4 years. I coach debate to work with students and learn myself about the current policies in the world. I have learned that there are always 2 sides to an argument. My hopes for this season are to grow and learn as a team. I want to see my JV students be ready and confident to go for varsity level debating next year. My favorite memory from coaching are all the CHAMPS tournaments, and seeing the students get their awards, or just feel successful after a good debate, even if they didn't win. My advice for students debating in the virtual season is GIVE it a TRY! You have a lot of opportunities to try different tournaments and meet new people even virtually.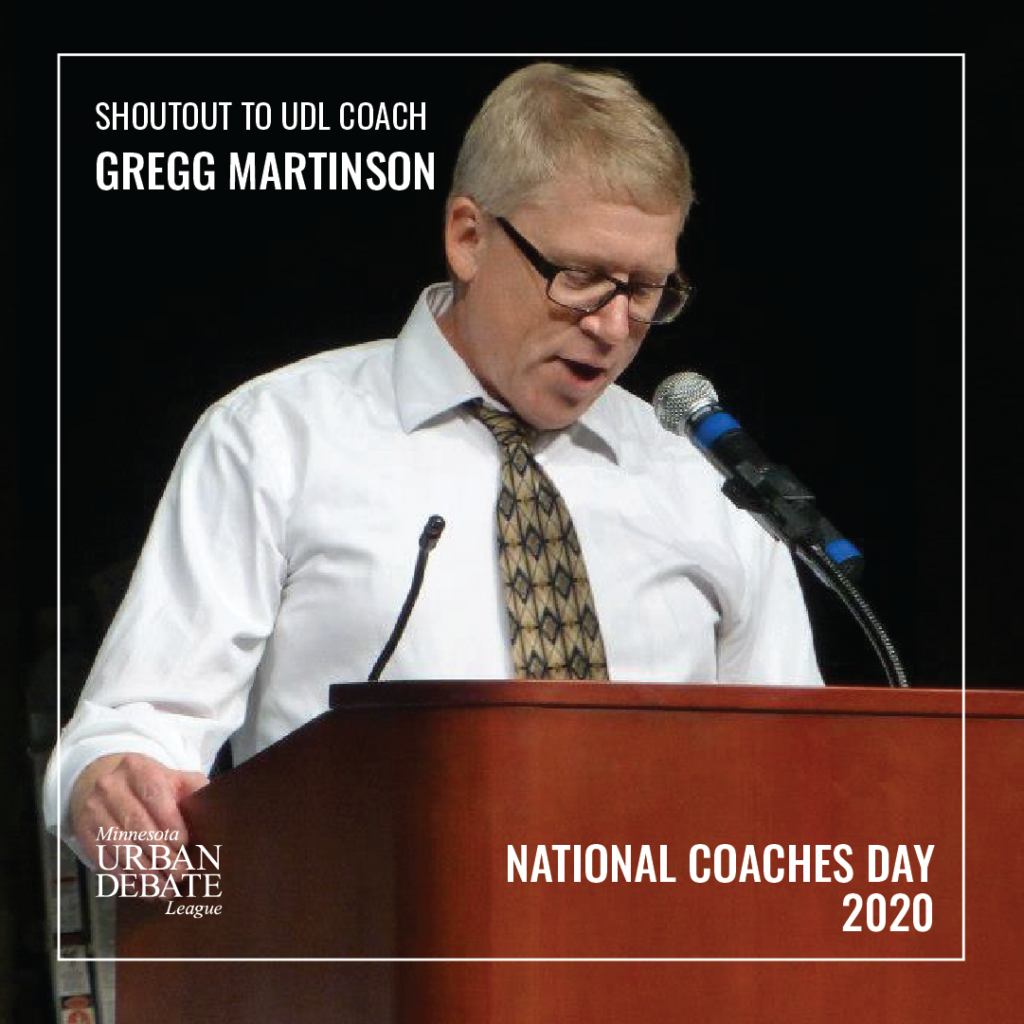 Gregg Martinson coaches policy debate at our all new partner, Roseville Area High School!
Gregg Martinson – HS National Topic Policy Debate Coach at Roseville Area Senior High School
What motivates you to coach debate? Debate gives students a real opportunity to grow into your voice and yourself as a human. I love watching that process and helping as I can along the way.
What have you learned from coaching? I have learned that every student, given enough time and attention can be a successful scholar. I've learned to be patient, to coax rather than push and to treat people fairly. Often that learning has come directly from my students either as feedback or direct advice and I have tried to use that to improve personally and professionally from that advice.
What are your hopes for the season? I hope that every student at Roseville Area High School who competes in debate gains skills that will help them in their lives and futures. I hope that everyone has fun and connects with other people on the team or in the debate community in some deep way. I am not a coach that pushes my kids to win, I think that success is in doing your best and taking pride in your experience.
What is a favorite memory you have from coaching? A favorite memory I have from coaching is watching so many shy 9th graders become powerful speakers, thinkers and leaders. There are many of these memories. I have been fortunate to coach so many talented people.
What advice do you have for students going into the virtual season? My advice to debaters is that you get out of the activity exactly what you put into it, and then some. If you apply yourself, go to tournaments, admit that you are lost or confused, be willing to learn and grow you will walk out of this season with a ton more then you put into it. You will not be your best judge of how much you have learned or gown. Be willing to live with discomfort and accept that at the end of the process you will have developed skills that you didn't think you had. That's even harder this year, but I believe the potential for growth in this weird year is bigger than virtually any other year that we have offered this activity.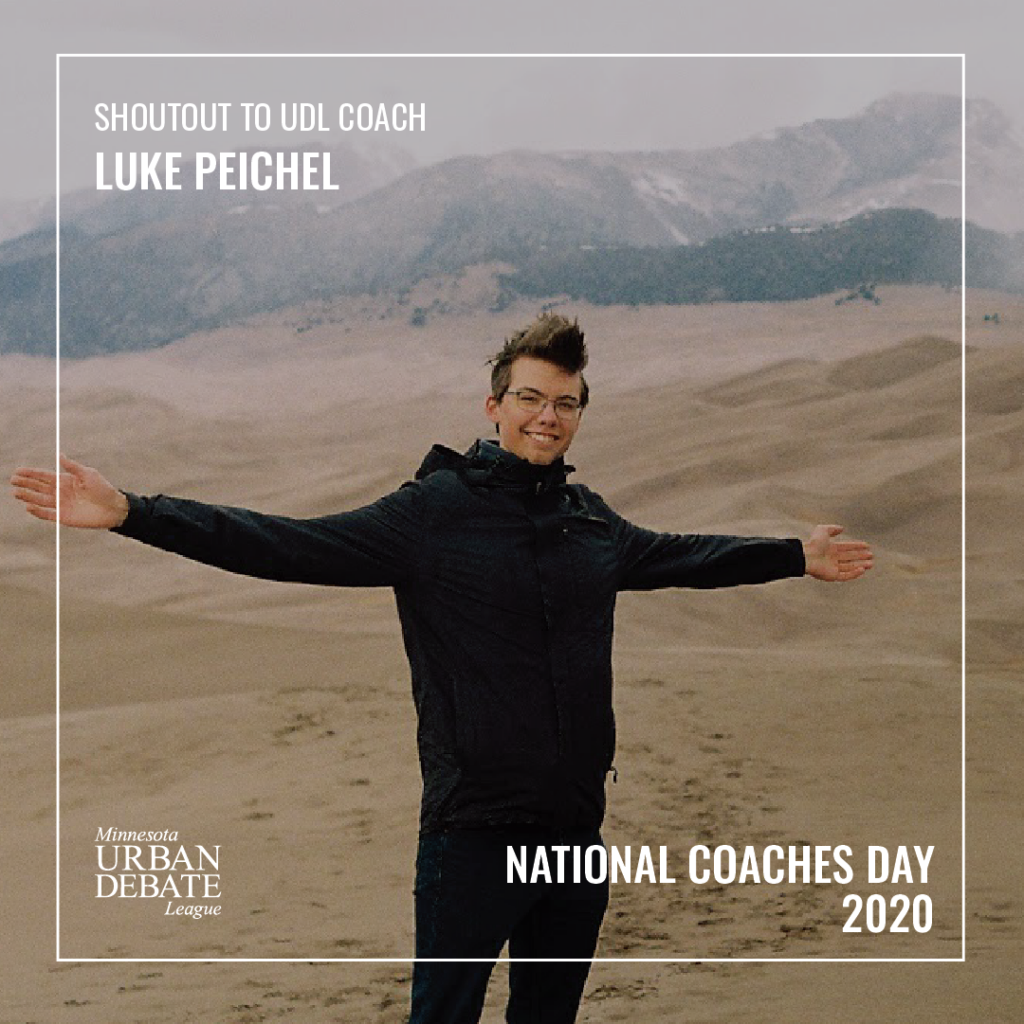 Luke Peichel is a former Washburn HS debater and current policy debate coach at Central High School.
Luke Peichel – National Topic Policy Debate – Central High School
Debate helped me gain a lot of confidence in my public speaking skills and I'm excited to pay it forward and help debaters grow into effective communicators, researchers, and critical thinkers. Debate also provides a space for students to have fun and build a strong team dynamic, which I think is especially important to support in the absence of in-person classes.
Steve Jents – HS National Topic Policy Debate Coach at Central High School
I love coaching debate because I get to see students develop as thinkers, speakers, and people. Observing students develop a passion for particular issues within a topic speaks to my heart as a Social Science teacher, and seeing animated and smiling debaters come back from a round is always fulfilling to me.
---
Middle School National Topic Policy Debate
Kate Olson – Middle School Debate coach at Sojourner Truth Academy in Minneapolis
This is my third year coaching Debate. I LOVE, LOVE, LOVE seeing the level of engagement and dedication that our scholars demonstrate when it comes to Debate. The energy and excitement around studying and learning is a joy to see. This year, I look forward to seeing how these technology-driven scholars are going to adjust to Debate in a virtual world. I am fairly certain that they will rock the house! At Open House in August, I told a 7th grade student what this year's topic is (criminal justice reform) and she jumped for joy while telling me that this is what she wants to study in college! I love the enthusiasm for learning that I see in our Debate students. And, they are just great kids so I feel privileged to be a part of their lives and education. They make me smile and laugh every day.
Stephen Lee – Middle School National Topic Policy Debate Coach at Yinghua Academy
What motivates you to coach debate? I believe debate (and speech competitions) are one of the most significant contributing factors to the success I've had in my career. Those activities gave me an outlet to express my thoughts in a constructive manner, advocate vigorously but professionally, and organize arguments into tactical positions. All those "soft" skills are becoming even more valuable to employers today. If I can play even a small role in developing, not just debaters, but future leaders and good citizens who are engaged in public policy, then it's all worth it.
What have you learned from coaching? As coaches, we play such an important role in helping these student think critically beyond their own assumptions and biases.
What are your hopes for the season? That the challenges of adapting to these changes of learning, practicing and competing will not be too difficult that we lose anyone. These students need social connections, and I am hopeful debate offers one outlet for them to connect, grow and learn together.
What is a favorite memory you have from coaching? Seeing the joy on the debaters' faces once they finally get to a tournament and all that training, lectures, practice rounds come together and they are able to use all that in friendly verbal competition. They are then all hungry for more (and not just hungry for the pizza).
What advice do you have for students going into the virtual season? Be flexible and patient. Again, advice for me as a coach too. Make the best of it, set aside my assumptions, and look for the silver linings.
---
Spanish Debate League
Caitlin Dowden – Spanish Debate coach at Southwest High School, Minneapolis
"What motivates me to coach debate is seeing how much progress my debaters make from the beginning of the season until the end. I've watched as one of the shyest students in my class came out of her shell and became a real dynamo by the last debates. I feel like Spanish debate gives kids a reason to be confident about themselves and their heritage, and I'm just honored to be a part of that."
Paula Boe – Spanish Debate League coach at Highland Park Senior High School
My main motivation for coaching Spanish Speaking Debate for the past 8 years is the connection I am able to make with my students. Watching them learn, gain confidence, make new friends, take risks, use their voices, set goals, and experience the joys and challenges of debating makes it all worthwhile! I am inspired, motivated, and encouraged by my students. Their smiles and questions and perspectives have been, and continue to be, some of the greatest moments in my 29 years of teaching. I am grateful for the opportunity to coach as a part of the MNUDL.
Elizabeth Dwight – Anwatin Middle School – Spanish Debate League
I love to coach Spanish debate for so many reasons. It raises the status of Spanish in our immersion program, calls for the students to display their critical thinking skills, and teaches them to maintain their composure in front of the judge and opposing team. I also love the joking around at practice. The biggest thing I have learned is to never underestimate what the kids can do. Just when I am feeling overwhelmed by how hard the evidence packet is, the students do a practice debate and clearly show they are synthesizing the arguments as they take on their opponents. My favorite memory is when a student who had joined the team a bit late in the season and whose partner couldn't come for the tournament, decided to compete alone. The student won the round!
---
East African Debate
Mohamed Ibrahim – East African Debate coach at Andersen United Community School
What motivates you to coach debate?
Talented young debaters on the team motivate me a lot, specifically when  theyshow they've learned how to make a good argument. That really encourages me to help guide them to sharpen their skills.
What have you learned from coaching?
I have learned that every student has unlimited potential and talents that need to be explored more. I learned that the best debate coach is the one who has listening skills, motivates his team to do their best, and essentially helps lead them to success.
What are your hopes for the season?
I hope that every East African student at Minneapolis Public Schools will be given an opportunity to participate in urban debate league. It's a way everyone can be able to discuss about the topics concerning their community. I think urban debate programs should be key players in efforts to foster civic engagement, democratic responsibility, and public speaking skills of younger generations.
What is a favorite memory you have from coaching?
My debate team will be remembered for how they overcame the challenges of being shy. I always enjoyed being able to train my debate team to express their opinion and to speak up and listen to the opinions of others.
What advice do you have for students going into the virtual season?
Virtual learning is the only option students have right now. Please try to set up a designated study area. Keep practicing your public speaking during this time. It is very important for you and it is going to prepare you for the real world.
---
Did a debate coach make a difference for you? Thank them! Tell us your story and we'll feature it in our 15th Anniversary campaign.