Senior Spotlight: Maribel Ayala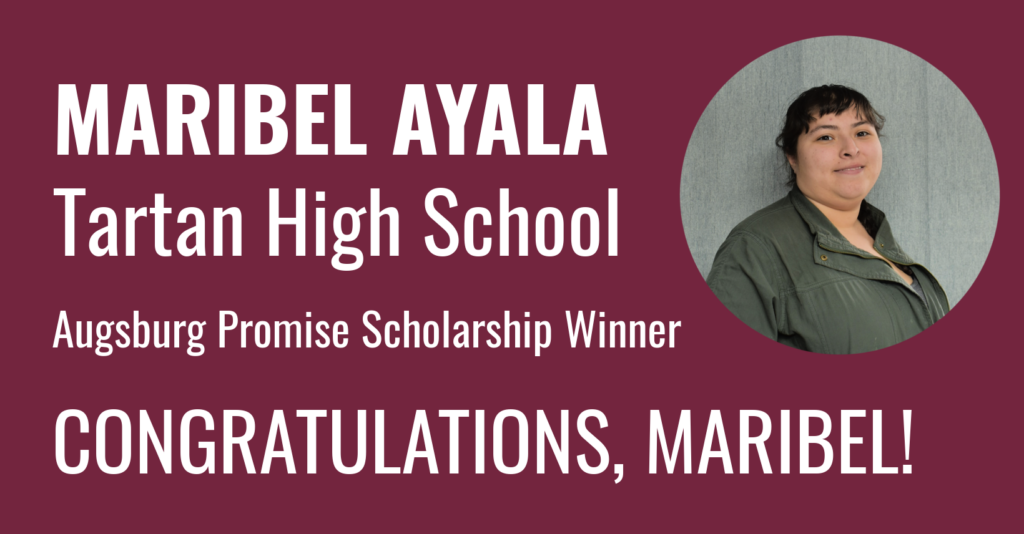 One of the unique benefits of the Minnesota Urban Debate League's relationship with Augsburg University is the Augsburg Promise Scholarship, which provides full undergraduate tuition to qualifying debaters. We are thrilled to announce that Maribel Ayala, debater at Tartan High School, has earned the Augsburg Promise Scholarship! Learn more about Maribel, what she gained from debate, and her achievements over her time debating.
Meet Maribel Ayala, recent Tartan High School graduate. Like graduates across the nation, she asked herself, What's next? as she finished her senior year coursework and responsibilities. Maribel chose Augsburg University, where she received a scholarship for the full cost of tuition through the Augsburg Promise Scholarship! The Promise Scholarship, a collaborative effort between Augsburg University and the MNUDL, aims to support students who have demonstrated their dedication to debate and possess the potential to excel in higher education. To qualify for this prestigious scholarship, students must participate in at least two years of MNUDL programming, meet the eligibility criteria for the Pell Grant, and maintain a cumulative GPA of 2.5 or higher. Maribel's remarkable achievement can be attributed not only to her academic prowess but also to her commitment to debate and the way the activity and Tartan's debate coach, Jamie Maiers, shaped her perspective on life in ways she never anticipated.
"Ms. Maiers told us from day one that, 'you learn more by losing than winning,' and she never let us forget it," Maribel shares. "Every time we would lose a round, her first question would be, "and what did you learn?"
Maribel explained that this perspective changed how she viewed losing debates and "failure," in general. Rather than allowing losses to discourage her and her teammates, Tartan students embraced them as opportunities for growth. Each defeat presented a chance to analyze their arguments, reassess their strategies, and learn from their mistakes. The resilience and determination she developed in the face of setbacks is a part of her now. Maribel reflects:
"Once your perspective on failure shifts from negative to positive, so does your perception of your own limits. Things that were barriers before are now just another opportunity to learn from my challenges."
That is how she integrates Coach Maiers other key lesson, that, "Success isn't measured by the amount of wins; it's when you see growth." Beyond resilience and determination, Maribel knows that the skills she developed in debate, such as critical thinking, effective communication, and research proficiency provide her with a solid foundation as she begins her studies at Augsburg. These skills and lessons have become the true markers of her success, even though she did have competitive achievements as well during her time in debate.
The Promise Scholarship recognizes the invaluable skills and personal growth that debate instills in students. By providing a pathway to a college education, the program not only acknowledges the achievements of talented debaters but also encourages the development of critical thinking, effective communication, and a passion for lifelong learning. Support our work to connect more great students like Maribel with this opportunity.