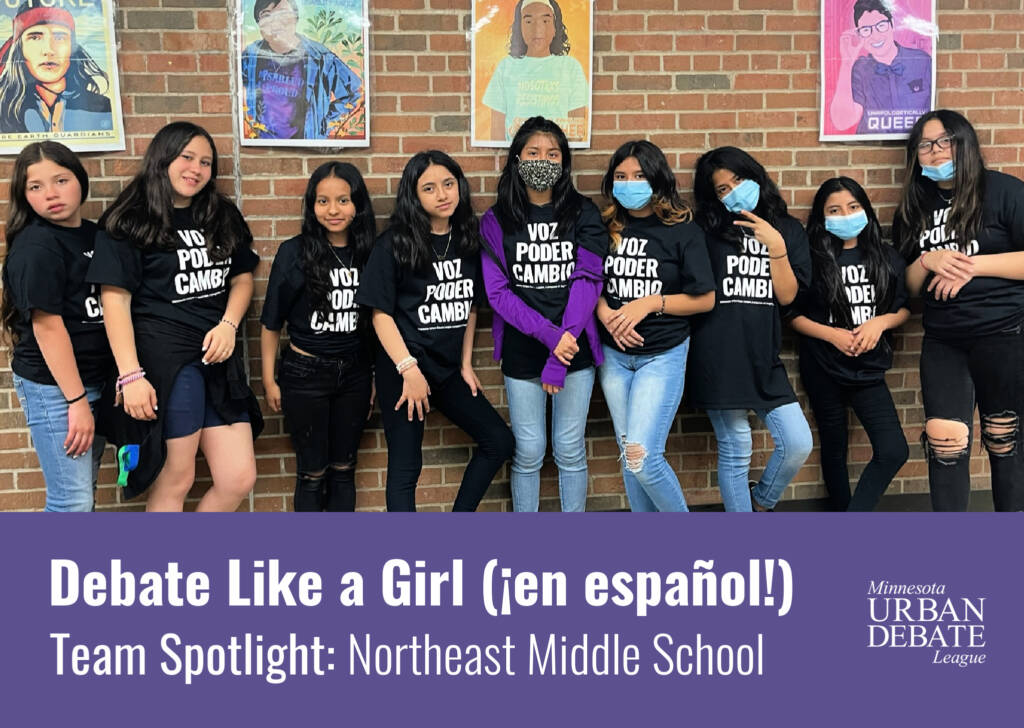 Northeast Middle School's Spanish debate team was 9 girls strong this year! Led by Coach Kayla Kelsey, they had an excellent record of representing their team in the Spanish Debate League across the season!
"My goal was to get the students excited and provide an introduction to debate with the hopes that they will return with a strong foundation next year and we absolutely accomplished that. My whole team were 6th and 7th graders so I'm really excited about what next year could bring," says Coach Kayla Kelsey.
Hundreds of photos and dozens of sticky notes later, Kayla documented a scrapbook worth of memories during the season. We're excited to share a few moments with you!
Read on to learn more about how students prepare for tournament season and see what the team members had to say about this year's experience.
What's In A Season?
Every year, our Spanish Debate League community chooses a debate topic that will create an energizing dialogue between students. This year, students debated the ethics of consuming animal products.
With the guidance of Coach Kayla Kelsey, the debaters learn the fundamentals of debate and improve their Spanish language speaking, reading, vocabulary, and comprehension in the process.
Before students compete in tournaments, the students are paired into two-person teams and learn to work together as they build cases. They learn to advocate for both the affirmative (pro) and negative (con) side of the topic. Although many students feel shy about public speaking when they first join, they overcome their nerves through lots of debate games that are so fun you forget you're "onstage"!
Debate Like a Girl (en español!)
This year's team was entirely made up of smart and hardworking girls! ¡Bien hecho, chicas!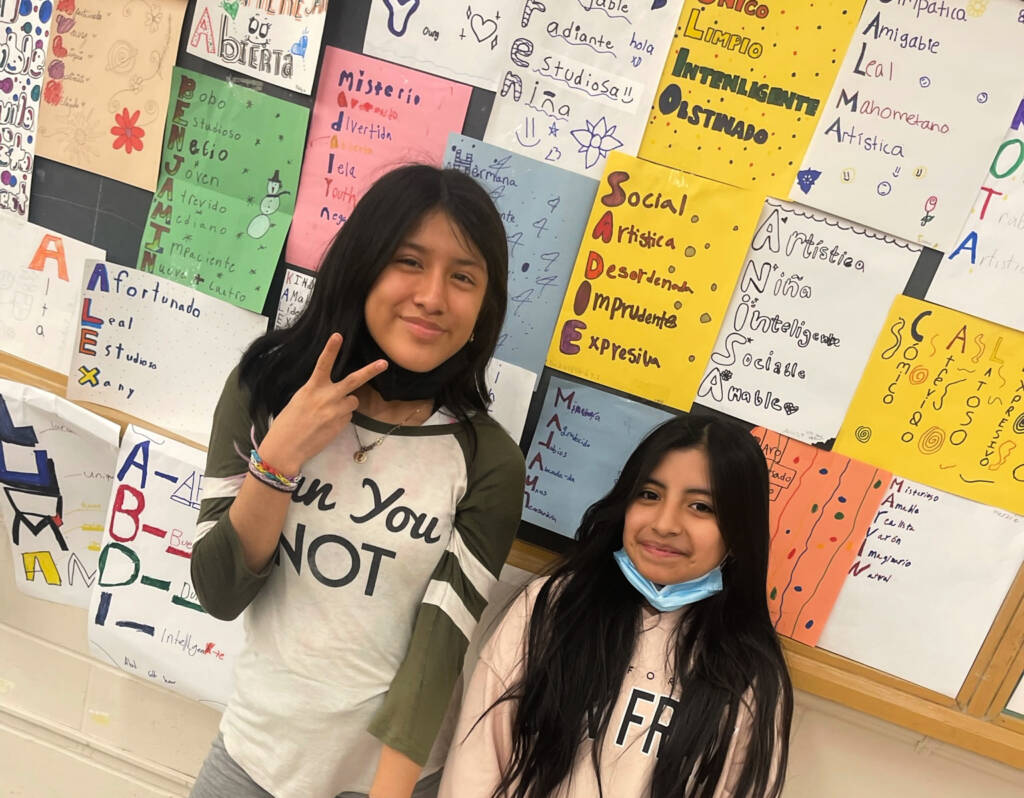 Team Nayely & Jenny
This team had a strong performance over the season. They won both of their rounds and tied for first place in the final tournament! Both earned speaker awards.
Nayely tells us,
"I decided to join debate to fight for the right side and to have a chance to see from different perspectives. What I liked most was how organized our binders of evidence were, and the people we made communication with. It was really fun and it was nice to share with others!"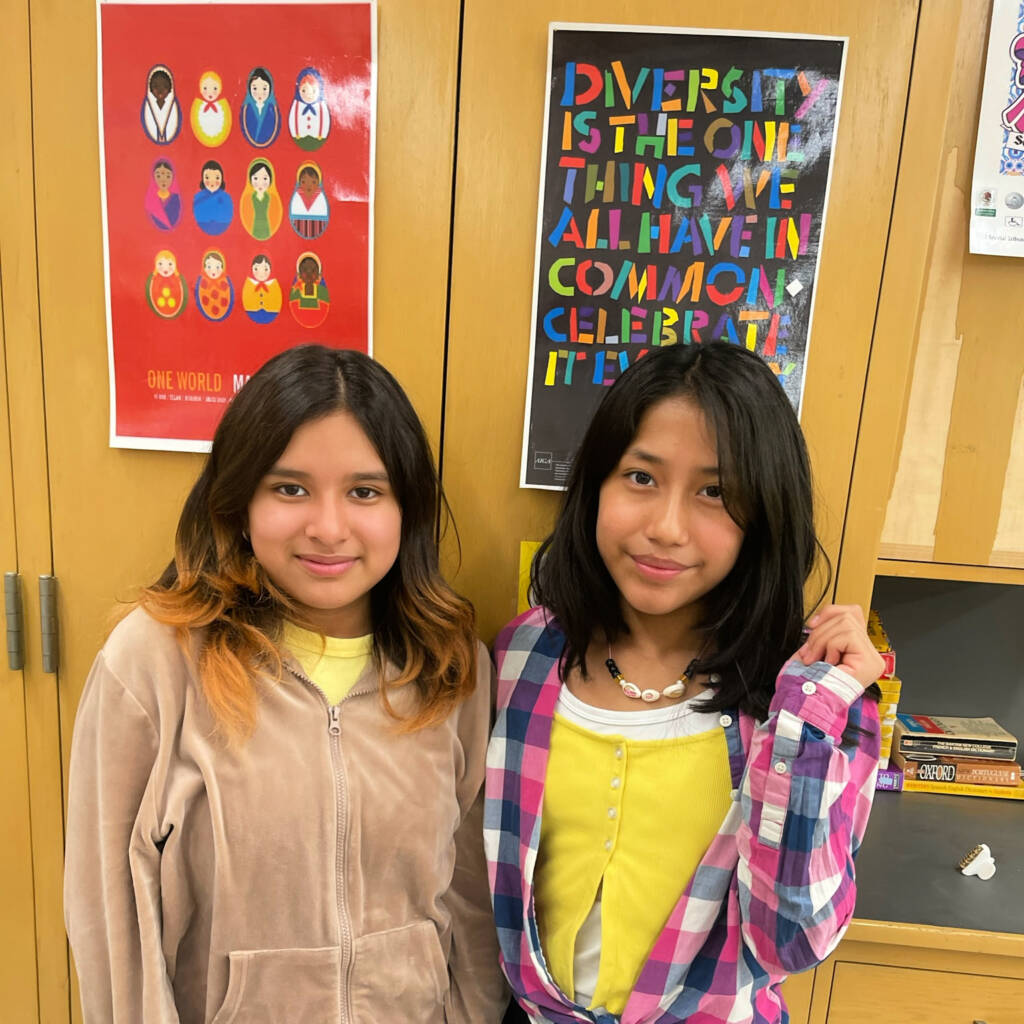 Team Giselle & Vanessa
At the first tournament, Giselle earned the runner-up speaker award, while Vanessa took 5th place. At the second tournament, they won their round against Justice Page Middle School. The team took 6th place in the final tournament!
Giselle tells us,
"My mom told me that joining debate was gonna be a good start for going to college, and good for my future. I really liked the debate program. I would like to join again next year.

We learned about meat, like if we eat a lot of meat it can be dangerous for you. I also learned how to start and finish a debate.

The relationship we had with each other, and my experience of being in the team together, was great.

The hardest part about debate was to talk and ask questions. After the season, I got comfortable talking. We start practicing debating months before, so we know what we should do."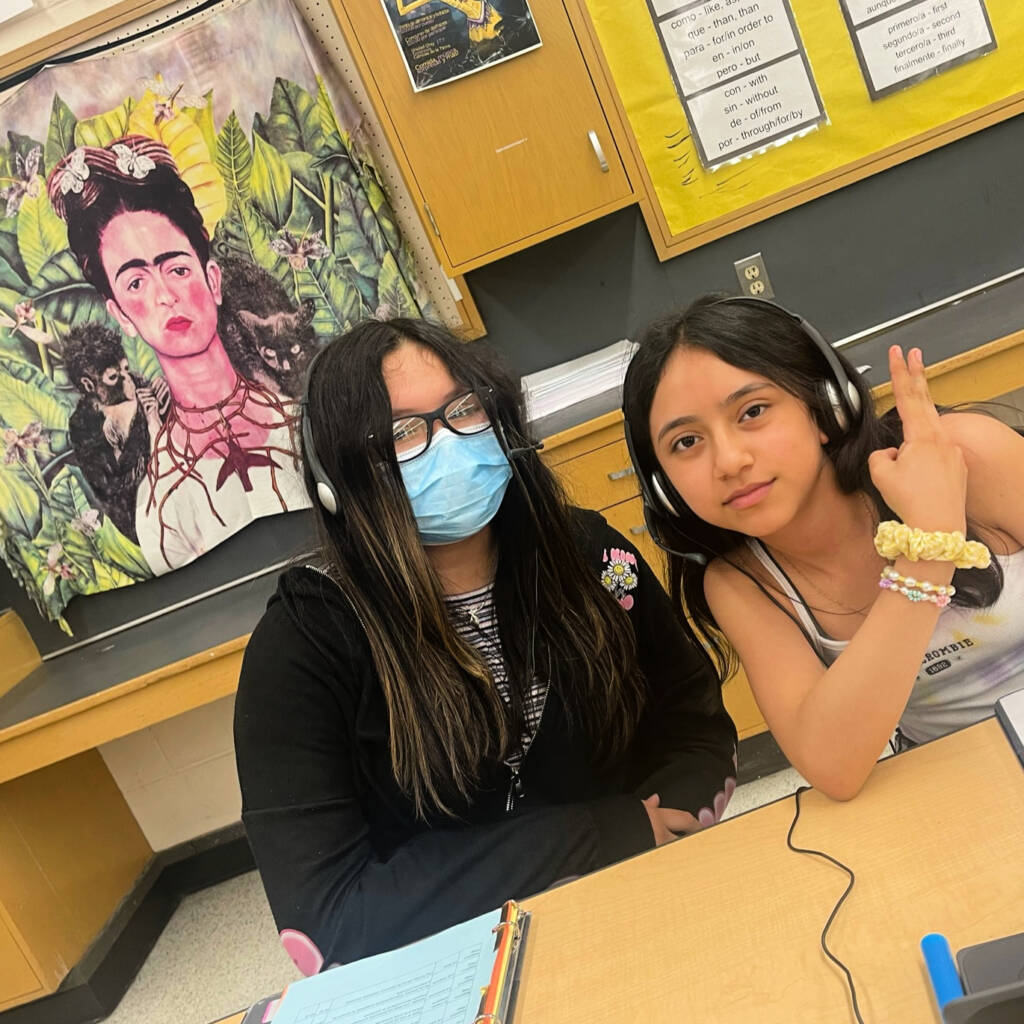 Team Rubi & Kaaren 
In the Championship tournament, Kaaren & Rubi won against a team from Justice Page Middle School and tied for the first place team award!
Rubi also tied for first place for the most points earned in the Spanish Debate Middle School championship!
Kaaren tells us,
"I joined debate for a chance to try new stuff. My favorite part of debating was interacting with new people and seeing other people's opinions, because not everyone will have the same opinions as you. It was a nice and fun experience for us!"
Team Discusi
ó
n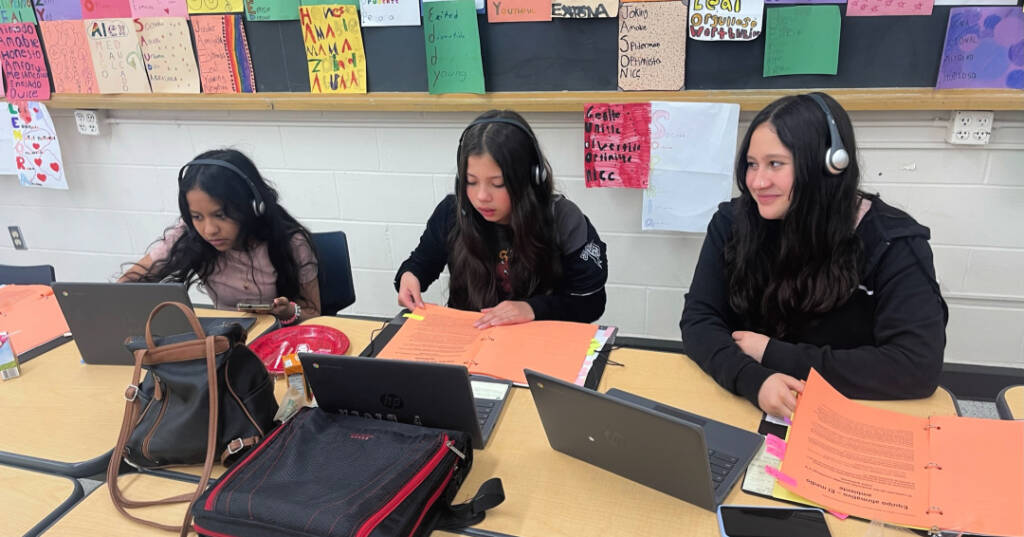 In the Discusión division (which is based on Minnesota Speech's Discussion event), students focus on consensus building and digging deeply into solutions surrounding a challenging topic.
Fabiola placed in both discussion AND a team debate. Ruth placed 2nd at the first tournament. Sara placed 3rd in both rounds of the final Championship!
Coach Kayla Kelsey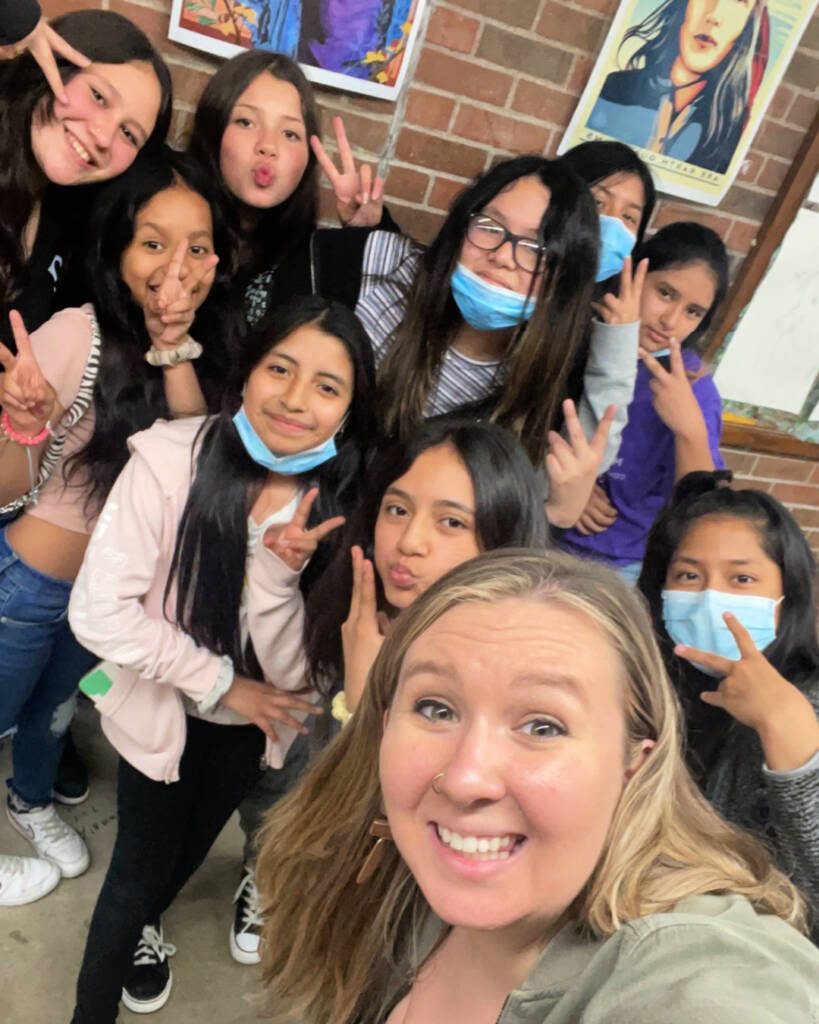 Fluent in Spanish, Coach Kayla Kelsey is the Technology Integration Specialist at Northeast Middle School. She has served as a Spanish Debate Coach with the MNUDL for almost five years!
Kayla is driven to be a coach for personal reasons. She informs each student of their opportunity to earn the Augsburg Promise Scholarship through debate – full undergraduate tuition to Augsburg University, available to students who are Pell Grant Eligible, maintain their GPA, and compete in the league for 2+ years. Kayla tells us,
"I am so motivated by everything that the MNUDL does. As a first generation college student myself, I understand really intimately the barriers to accessing higher education, especially first generation students of color. The fact that UDL supports student debaters with a scholarship to Augsburg  is incredible!"
Kayla sees special value in her school's Spanish Debate League programming.
I have also worked as a bilingual Spanish support in schools and so many native Spanish speakers don't have an opportunity to engage with their native language at school or in academic settings. Spanish debate is such an incredible way for these students to grow their confidence in using their native language. This growth is especially cool at the middle school level, as some students (especially those born in the US) are reading and writing in Spanish for the first time. For the first time many of them are able to share their learning with their family members in a way they don't otherwise have the opportunity to. Their family members can sit down with them and truly understand what they're working on. It's a really amazing and beautiful opportunity that I wish all of our bilingual students had.

The value is innumerable for our students in that it gives them an incredible opportunity to build confidence in their native language. Other teachers have commented to me that they see this confidence shining throughout the school day with the students. One teacher said this group of students is often so quiet, so it's been amazing to see them proud of their participation in the group.
Because Kayla has been a coach since 2018, she's seen the ups and downs that have come with the COVID-19 pandemic. That's why she is so impressed at her team's resilience.
This year the team was so hard-working, it truly amazes me! This has been a really long school year with students and yet they showed up after school and engaged with more learning! They were committed and determined and worked harder than any group of middle school students I've worked with. They highlighted their readings and created tabs; it was just so, so cool to see their drive and commitment.

Also, seeing them find out they won a team debate was so awesome. They started the season so nervous they were shy to be on video even with their masks on, and they ended the season with wins under their belt!"
Despite the challenges of a tumultuous school year, the Northeast Middle School Spanish Debate Team worked hard to improve their skills, build a positive team culture, and make memories together. Thank you for sharing them with us!