Team Spotlight: Franklin Middle School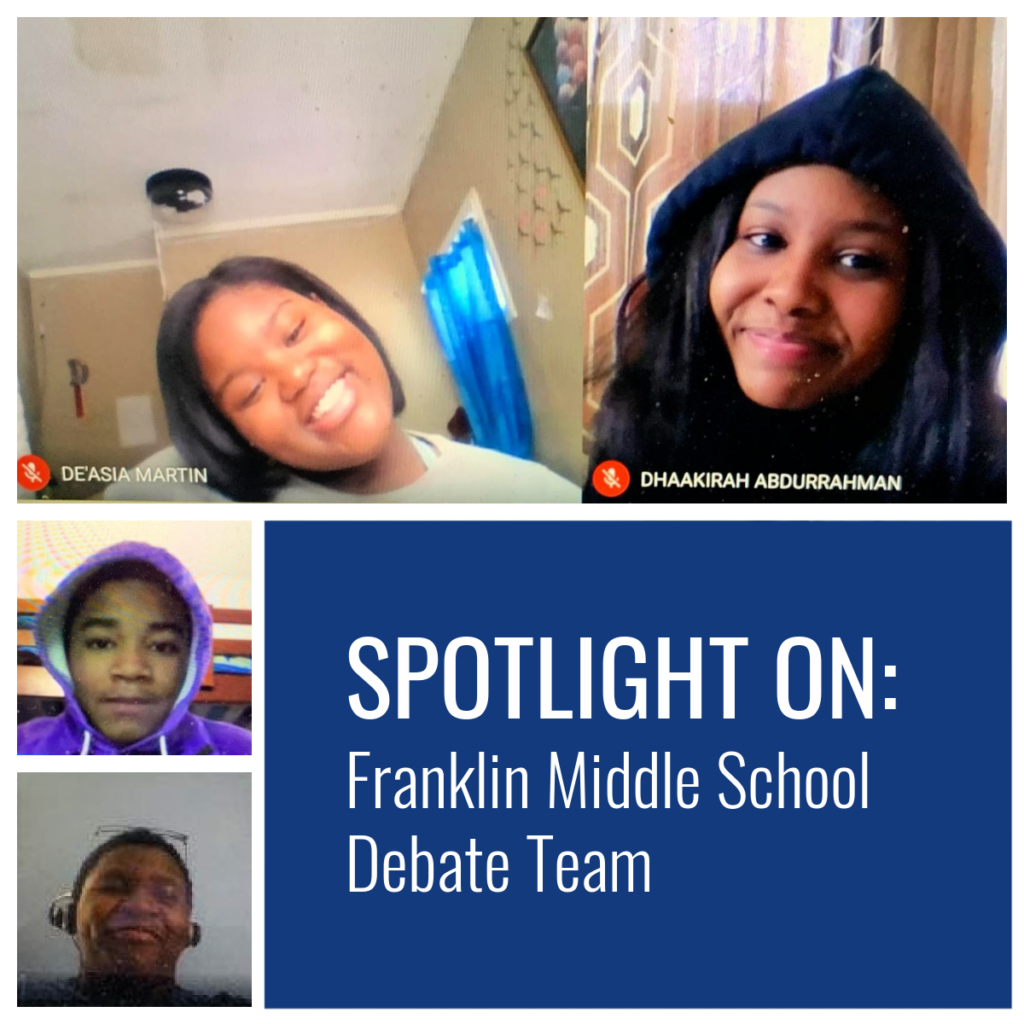 Middle school debate season always warms our hearts in the coldest part of the year, and 2021 is no different. Thanks to your support, we're able to continue providing programming for our middle schools 100% virtually during the COVID-19 pandemic. 
This year's middle school debate topic is police reform. It's more important than ever for students in Minneapolis to have the opportunity to address this timely topic. Flory Sommers, our 2019 Middle School Coach of the Year, is helping guide the debaters at Franklin Middle School through this challenging year and complex topic. 
Franklin Middle School will be the first team to kick off our middle school spotlight series. Check in with the team members Daijor McCrimmon, Eythan Israel, Dhaakirah Abdurrahman, De'Asia Martin and Jojo Wright at our interview below! 
---
What inspired you to join debate this year? 
Eythan: Mainly, I like getting to disagree and argue with people. It also just sounded cool, so I just decided to join. 
Dhaakirah: I like that you can actually make a statement and argue. People can get to hear my voice. 
De'Asia: I like to argue with people and go back and forth – not in a negative way. I like being right all the time, and I like telling people what's right and what's wrong! 
Daijor: Last year, Señora Flory told me about it in Spanish class. It sounded cool, because you get to speak in public for real. I knew it would help me do that better. Last year was a fun experience. It's different this year with corona[virus], since you have to be at home. In person, it was better. But I feel more confident this year. 
Jojo: Well, I really don't have anything to do between 4:00 and 5:00. It also sounded good when I heard people talking about it. 
What do you think about the topic this year, police reform?
Daijor: I think it's a great topic. It's even better than last year's topic. Last year, I didn't understand everything we were learning about Mars settlement. I don't really see that on the news. This year, we've been through all this, with Black Lives Matter and everything this summer. 
Señora Flory: It has reality for your everyday life – you have thoughts about it already. 
Daijor: Exactly. 
Eythan: It's a weird topic to debate. Some of the evidence doesn't make sense, but then another point will make more sense. There's a lot you can debate. The part that makes sense for me is the one that explains police training. It perfectly wraps it up when you say they're built to have a warrior mentality. 
Dhaakirah: A lot of people have experience from this summer, and they can include that into their evidence. 
Señora Flory: It's not something theoretical, it's something that really affects your lives. 
De'Asia: I think my favorite part of this topic is that police are really at the heart of the debate. It impacts a lot of people's daily lives, especially if someone in their family has been harmed by police violence. 
What have you learned from debating so far this year?  
De'Asia: I've learned a lot from this topic – more than I already knew about it. I learned how many cases the police officers get, how they're always on the move, and how much money gets spent for them to do it. 
Eythan: I learned that gun companies can go to the extent of paying money to people to talk to the legislature. 
Dhaakirah: It surprised me that in other places, police don't carry guns at all. 
Daijor: I learned about bias in police training and the warrior mentality. 
Do you have any highlights from the first tournament to share? 
De'Asia: A lot of stuff happened in our second debate. There was so much going on, but me and Dhaakirah kept our cool and got back on track without making it very noticeable. The highlight would probably be when I explained to the judge why we won, and my little sister decided to disagree with me. (laughs)
Flory: That's something that wouldn't have happened if we were in in-person debate! Their judge's ballot did point out how well they recovered. They handled that really well. That's part of doing a debate – dealing with what can go wrong, and learning to not do it again. 
Dhaakirah: I really liked hearing other people's opinions on the topic. 
Flory: Here, we can only debate against each other. We already know what arguments we are using. It's always fun to hear what other teams are saying. 
Eythan: In the second debate, everyone was getting booted offline. 
Señora Flory: You were very patient and waited for them to get back online. You didn't act ruffled at all.
Daijor: I just did better than I did in practice.  
Señora Flory: In fact, Daijor & Eythan earned a 5th place team award and went undefeated at their first tournament. Dhaakirah & De'Asia ended up getting the 5th place speaker award. It's not often you get teammates tying.
Did you find a way to celebrate your wins, even though you're apart? 
De'Asia: My parents took me out to eat and bought me a little trophy.
Daijor: My mom shared the results. 
Señora Flory: There is something really nice about being in that gym or cafeteria full of people when you get a medal. But they're all in 7th grade – there's next year for them to experience it in person. 
Do you have any specific hopes or goals for the season? 
Eythan: I want to go undefeated! 
Daijor: I want to be #1! 
Jojo: I just want to have fun with it. 
Dhaakirah: Not forgetting magnitude, timeframe, and probability. 
Señora Flory: That's a good choice – focusing on impact calculus. 
De'Asia: I want to remind the judge why we should win. I also want to read a bit better, not stumble over the words, and not spend too much time on one question. 
Señora Flory: You've really paid attention to what the judges said. 
Jojo: Get enough evidence to support your facts. Not too much, not too little. Make it more condensed, and convince the judges to be on your side. 
De'Asia: And to use the prep time the right way, and spend all my time for the rebuttal!
---
Your generosity helped us equip Franklin Middle School's team with headsets to improve their audio quality. Quality headsets cost $15/each. If you are able, please make a monthly or one-time donation to help fund debate tech for our upcoming Spanish Debate and East African Debate seasons: bit.ly/GiveDebate