Our middle school debate season is going strong! Thanks to your support, we're able to continue providing programming for our middle schools 100% virtually during the COVID-19 pandemic.
This year's middle school debate topic is police reform. It's more important than ever for students in Minneapolis to have the opportunity to address this timely topic. Coach Rhonda Lund is helping guide the debaters at Sanford Middle School through this challenging year and complex topic.
Coach Rhonda Lund tells us:
"I have been coaching debate at Sanford ever since the very first year Minnesota Urban Debate League was established. By now I can't imagine not coaching. There have been challenges with working online, but the experience is still really good for the debaters, and I am having a good time doing it.

My goal for my debaters is that they have fun and experience success. Many of them get a chance to have the thrill of winning, and then see the work and focus it requires to keep winning. This is a great experience for students, and watching them gain confidence and grow in their skills is very satisfying."
What's it like to be a virtual middle school debater this season? Learn more about the Sanford team members' experience below.
---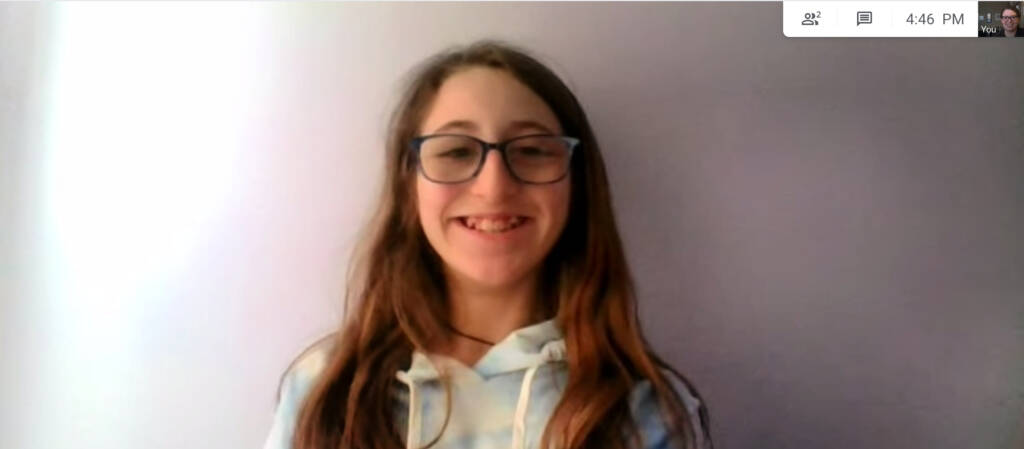 Sadie is a 7th grade student at Sanford Middle School. This is her first year competing in debate.
How long have you been in debate?
I joined last year, but I wasn't able to compete in tournaments. This was my first year actually competing. I thought it sounded fun, and I've always liked learning about things and arguing my point.
What's it been like to do online tournaments?
I think it's good, really. You can have everything you need with you in your house. My partner competed in person last year, and he said you get lost a lot. (Laughs) My parents also wouldn't have been able to see me compete last year, but now they can log on and watch. My mom works at home, so she can watch my debates. It doesn't make me too nervous. I think it makes me less nervous than if she was in the same room watching me. I like not watching her watching me. (Laughs)
What have been your highlights of the season?
At our first tournament, we got first place. That was an amazing feeling. We weren't expecting it at all. That was my first tournament ever.
Did you do anything special to celebrate?
We had a special dinner. Something food related. It seems like our whole team celebrates with food!
How do you feel about the criminal justice reform topic?
This is happening right now. If we passed a plan outlined in the evidence, it would drastically change things. It's cool that as middle schoolers we can have a voice on this topic. Even though we're not adults yet, we can learn about the topic. I find the statistics interesting: how many people are killed by guns, the pro/cons on either side. We're learning all the bad things happening with police. There are things we need to change, not just one thing. It's cool to learn about what's going on under the surface.
Is it hard to talk about it, given that the trial's coming soon?
I think that it's a good thing. It's not easier, but it makes it even better that we're talking about it now. We can point to everything that's been happening and say, "This is why we need to change it." It's cool that we can talk about this stuff, since it's really happening.
At the beginning, it was hard to handle the pro- and con- side. That was a bit confusing. Eventually, once I got to know the evidence more, it became pretty easy.
How has debate helped you?
Learning all this evidence has helped me understand what's happening here and around the country. I see what's going on, and I can ask questions about it. Being able to write out my rebuttals has helped my writing skills a lot. I can use the evidence that I have and write a story with it.
Have you been able to make friends through debate, even though it's virtual?
My partner and I really didn't know each other last year. Now, we're actually pretty good friends. I've made a couple of other friends in debate, too. I think with virtual debate, you have to find ways to talk outside of debate, so you find other ways of communication like texting. You don't have to be in the same place every week to talk.
Is there anything you think more people should know about debate?
It's more structured than people realize. You read evidence, you identify the flaws in evidence from the other side. I think it's cool how structured an argument really is, and how much more is going on than people realize.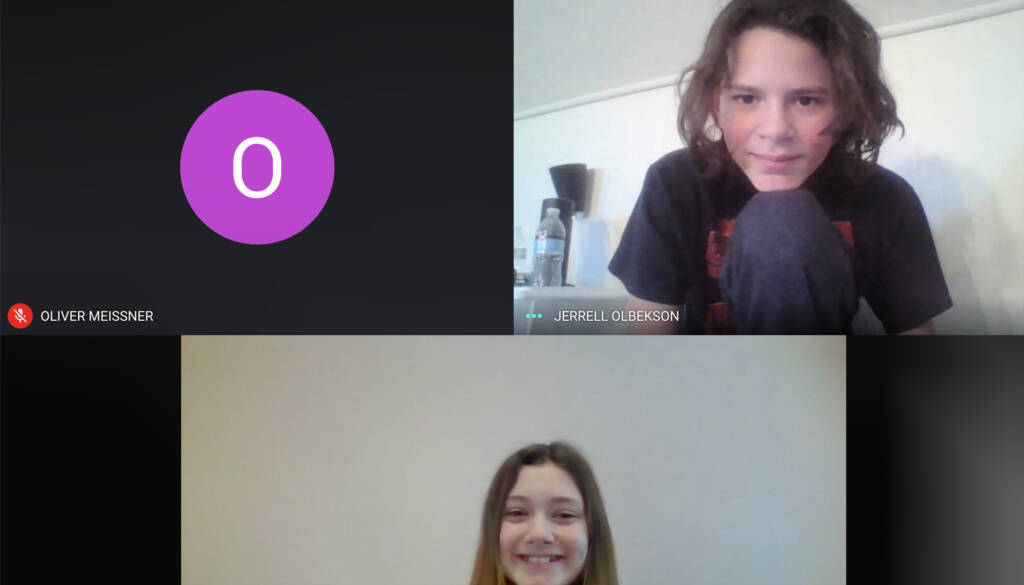 Oliver, Amelia, and Jerrell are all 7th grade students who joined debate last year. This year was their first time debating virtually.
What got you interested in joining debate?
Amelia: My dad did debate all through high school and he was a coach in college.
Jerrell: During my brother's high school orientation, he told me that debate can help you get into college. I also wanted to improve my argumentative skills.
Can you talk about the differences between virtual debate and debating in person.
Oliver: They're pretty similar, really. The amount of problems are the same, on balance. Last year, we got lost in the hallways. This year, it's figuring out tech issues. (laughs)
Jerrell: I liked in-person more, because the debates didn't take a long time to set up. It's also less fun when you can't sprint around a high school looking for your room. (laughs)
Amelia. It's a bit hard to communicate with your partner. You have to type it all out.
Are there any aspects that improve with virtual debate?
Jerrell: It's less tiring, and it's easier to navigate. Plus, you can always just take a break, since you're in your house.
Oliver: I know a lot of people still use the paper evidence, but I keep mine digital. I've found that a lot easier to keep organized.
What do you think of the criminal justice topic?
Amelia: It's important because of the killing of George Floyd and Breanna Taylor. It's a very current thing, and no one really agrees about what we should do.
Do you have any highlights from the season so far you'd like to share?
Jerrell: At one point, recently, someone did a Cross-X based off a mishearing. That was pretty funny (laughs)
Amelia: Recently, I wrote a good rebuttal. At least, I thought it was good. My other ones were like, "In the evidence, it says this…" the one I wrote recently felt like it really came from me.
Oliver: My rebuttals have been a lot better this year versus last year. I didn't know how to write rebuttals well, but this year, I have a strategy. I take a story approach. My coaches helped me get down the evidence part, but I feel like I got to develop my own style.
What have you learned from doing debate over the past two years?
Amelia: I'm able to see the bad in everything. (laughs)
Jerrell: Me too. (laughs) Debate has changed my mind a good bit. I can see consequences, consequences, consequences.
Amelia: But really, it affects me for the better. I can think harder about things- all the good and bad.
Oliver: I definitely think that I am able to think about things more – point out both flaws and good things. And my rebuttals have helped me with my writing.
What do you think more people should know about debate?
Amelia: It's more than organized arguing. It's arguing, but it's more than that. It's not just, you're wrong and we're right. It's finding all the sides of an argument.
Jerrell: Generally, what you think of going in is that it'll be like improv. They bait you into that, because at the beginning, you play fun improv games. Then they pull out all the papers (laughs)
Oliver: It definitely allows you to see both sides of arguments. It's like, I don't know how to describe it – it's just so fun.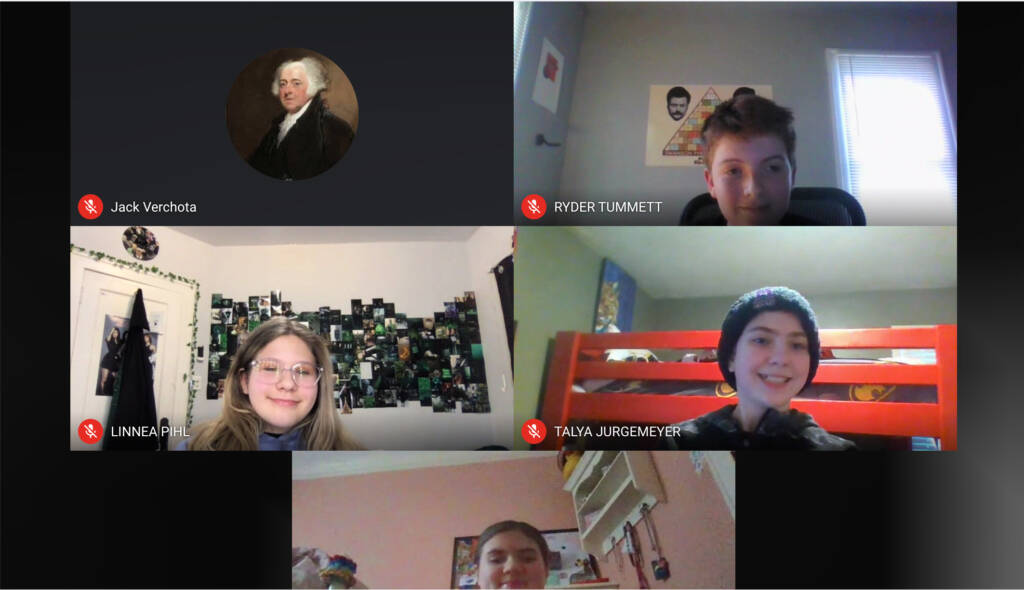 Pictured: Ryder (8th grade), Linnea (8th grade), Talya (6th grade), Anavie (8th grade)
What made you interested in joining debate? 
Talya: This is my first time. I'd like to be a defense lawyer when I grow up, so this is good practice. I want to be a nonprofit lawyer to help people who can't help ourselves. 
Linnea: The past few years, I haven't been able to do it. I joined with Anavie because we're best friends. We were bored because so many things got cancelled. 
Anavie: This year, we joined because all of our in-person stuff got cancelled, and we finally got a chance to join. 
Ryder: I just love to talk, and you get to talk a lot in debate. 
What do you think of the criminal justice topic? 
Linnea: It's so relevant right now.  This happens every day, all over the world.
Anavie: I had a strong opinion about one side, so it was interesting to learn both sides. I can put more humanity into the affirmative side. 
Ryder: I don't think enough kids get to look at the justice system until college. It's good people this young can get ahead on it. 
Is there anything specific in the evidence that was interesting to you? 
Linnea and Anavie: The weapons effect. 
Anavie: Just being around a weapon can make you and the people around you more aggressive. 
Linnea: When you're around a gun, you feel like you need to protect yourself. And when police don't use their guns responsibly, it makes some people want to buy their own guns for self defense. 
Talya: I never realized before I read the training evidence that cops are trained to think like a warrior. I found that very interesting. Seeing all the cops in the news, I can see their warrior mindset training coming out. 
Anavie: You're trained to be a fighter. Your first instinct isn't to protect the community, but to defend it. And that's true, they do defend it. But when it's in a violent way, that's messed up. 
Ryder: Many people are acting out of fear. 
Do you have any highlights from the past few tournaments you'd like to share? 
Linnea: We've had some really good rebuttals. 
Talya: There have been a lot of moments with Cross-X where I feel like I made my opponents speechless. That's a really fun feeling. 
Is there anything positive you've taken from debate that you've liked to share? 
Linnea: You don't get a lot of opportunities, especially in middle school, for stuff like debate. A lot of middle schools don't even have it. It's great that we can have it, because it prepares us for high school. We can get more prepared for difficult classes, and be able to see both sides – or three sides, or four sides, of everything. 
Anavie: There's a specific moment where you're getting all your stuff together before a debate where you are wondering if you're going to do well. When the debate is over, you realize how much you've actually learned. You don't really understand how much you've learned until it's all over. 
Talya: Debate is a very helpful skill in real life, just to help you see both sides. It helps you push your own argument out there and get ready for other people to react. 
Ryder: There's never really an argument that's obviously 100% right or wrong. There might not be a 100% truth in our lives. When you're debating, you have to argue against something you just argued for. You realize that neither way is perfect, and that's why it's so fun to debate. 
Anavie: I feel like, in school, you read your assignment for class, and you never really soaked in that information. In debate, you really get to read over all these different perspectives. You can tell you really learned so much more about a different topic. That's really satisfying, to know how much you learned about something. 
Linnea: Because we're in middle school, we can say that we stand for something, but we don't know that much about it. Now I feel like I know so much more about what the disarming the police movement is above. Before, I might say, Disarming the police is obvious. Guns and shooting are bad. Now, I feel like I can elaborate on those ideas so much more. 
---
Your generosity helped us equip Sanford Middle School's team with headsets to improve their audio quality. Quality headsets cost $15/each. If you are able, please make a monthly or one-time donation to help fund debate tech for our upcoming Spanish Debate and East African Debate seasons: bit.ly/GiveDebate