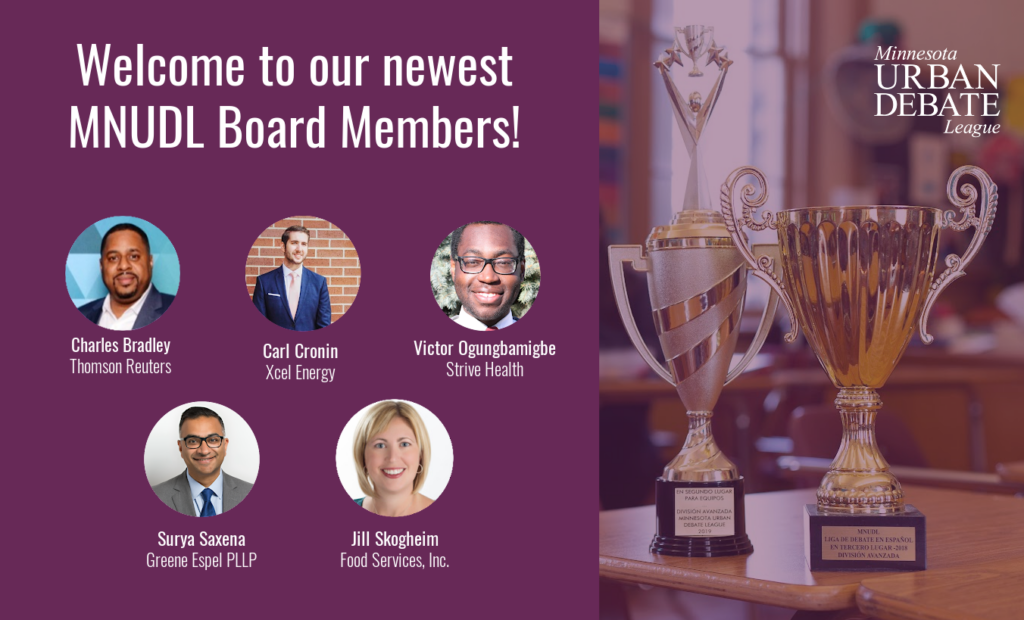 We are thrilled to welcome our newest MNUDL Board Members! As our board grows, we are excited to gain new professional connections, skill sets, and expertise for our organization. Thank you for sharing your time to support debate in the Twin Cities!
Charles Bradley, Senior Content Specialist II at Thomson Reuters
Charles Bradley is a life-long resident of St. Paul who has found many ways to make a difference. His list of volunteer efforts is long and includes leadership within the Black Employee Network and the Global Volunteer Network at Thomson Reuters. He chairs the Board of the Rondo Community Land Trust and serves as board secretary for the Board of Better Futures Minnesota.
A senior content specialist at Thomson Reuters, Bradley has had a long and varied career with the company during his 32 years there. "I started out as a janitor at West Publishing when I was just 17. I went to school at the same time, earning a communications degree at the U of M. With that education I worked in the Facilities and Engineering Department. When I started, we did everything in-house, which meant we laid the carpet ourselves, painted the walls, even built the cubes! I then moved on an editorial role in which I worked on printed legal research materials, then advanced to The Litigator Acquisition Team where I work with a global team to acquire legal documents for legal research and Reuters news coverage." When he is not lending others a hand, Bradley is pedaling the streets of the Twin Cities and exploring urban bike trails. His is carbon fiber bike is a prized possession. "It helps me to keep the diabetes away!"
Charles says:
"As a lifelong member of the Twin Cities urban community with great personal investment in it, I value the opportunity to help today's youth grow to be the strong champions for the community. Not only does debate foster success by requiring hard work and focus of the participants, but it also sets them out in the world with strong voices and sharp critical thinking skills."
Victor Ogungbamigbe, Project Manager of Data & Insights at Strive Health
Victor's interests lie primarily in finance, technology, and mentorship. He is a Product Manager at a healthcare startup in Denver, called Strive Health, where he works with clinicians and stakeholders to improve the prognosis for patients suffering from chronic kidney disease using data science and analytics. As a first generation Nigerian-American and the first of his family to be born in America, he quickly developed an astute ability to communicate and translate for family members and others in his community. Debate was one of the few activities which allowed him to use this skill for himself and to be heard by those around him. He aims to help foster the debate community and support the MNUDL to give all children the same space and tools for self-advocacy.
Victor says:
"Debate was monumental in my ability to think critically and develop long-lasting relationships with teammates and competitors alike. I joined the Board of the MNUDL to help foster the debate community and better support efforts to give all children the same space and tools for self-advocacy. I look forward to building a strong network to help the MNUDL further achieve its mission."
Carl Cronin, Regulatory Affairs Case Specialist, Xcel Energy

Carl Cronin is the Regulatory Affairs Case Specialist at Minnesota's largest energy utility, Xcel Energy. He develops and coordinates complex cross-functional business teams to execute major regulatory case filings. Currently, he has a focus on electrifying our transportation sector through infrastructure development and innovative charging programs. In his role, he regularly utilizes the skills he gained from his seven years of competitive speech/forensic competition to interact with government agencies and key stakeholders and digest complex information.
Carl says:
"I was motivated to join the board because I believe my time in competitive speech helped shape me into the person I am today and offered me many lifelong friendships. I am excited to help promote those opportunities afforded to me to future students so they have the opportunity to learn, grown, and develop the amazing skills debate/speech offer competitors."
Surya Saxena, Attorney and Partner at Greene Espel PLLP 
Surya Saxena is a partner at the Minneapolis litigation boutique Greene Espel PLLP. Surya is a former federal prosecutor and former in-house counsel who represents clients in government and internal investigations, False Claims Act cases, white collar criminal cases, government enforcement actions. Surya has fond memories of debating in high school in Brookings, South Dakota.

Surya says:
"Debate and extemporaneous speaking were so important to me in High School as a person of color growing up in South Dakota.  These activities helped me find my voice, challenge my opinions, and organize my thoughts.  They also opened my eyes to so many complex issues all over the world.  I'm a firm believer that every student, regardless of their background and socioeconomic status, should have access to speech and debate activities."
Jill Skogheim, President of Food Services, Inc. 
Jill Skogheim is the president of Food Services, Inc. dba 5-8 Club, a restaurant group most widely known for its juicy lucy burger and subsequent appearance on the Travel Channel Man v Food. The restaurant group has locations in Minneapolis, Maplewood, Champlin and West St. Paul. During her tenure with the 5-8 restaurant group, she has been responsible for expanding the concept from its original location to its 4 current stores as well as overseeing the marketing, accounting, and operations for the business. Jill received a BA in Economics from DePauw University, magna cum laude and holds an MBA from the Carlson School of Management at the University of Minnesota. In 2010, she was named to Finance and Commerce's annual Top Women in Finance list and in 2012 she was named the Minnesota Restaurant Association legislative advocate of the year. She received the Northstar Council Spurgeon Award in 2014, awarded for the demonstration of excellence in one's career field and service as a role model for youth, and was named to the Business Journal's 40 Under 40 list in 2015. She was the 2017 president of the Minnesota Restaurant Association and the 2015-2017 president of the Junior League of Saint Paul. Jill currently serves on the Dakota County Chamber Board of Directors, and Norway House boards, as well as serving as the treasurer for the Golden Dunkers board. She enjoys downhill skiing, Gopher basketball, golf, reading and traveling in her spare time. She lives in the Saint Paul area with her Miniature Schnauzer, Millie. Jill can be reached at jill@5-8club.com or @jillskogheim on Twitter.